International Medical Relief (IMR) clinics include three basic components: acute medical care, acute dental care, and community health education. Our teams consist of a variety of medical and non-medical volunteers, including medical providers, dentists and dental staff, PAs, NPs, nurses, EMS, non-medical personnel, and an IMR staff clinic director. The make-up of each team is unique and able to reach beyond borders in order to provide patients with sustainable healthcare.
Overall there is a large need for medical clinics across all borders. International Medical Relief (IMR) supports local health officials in order to provide primary and secondary health care services. IMR medical clinics are multifaceted with multiple stations meant to provide the largest impact to the most number of patients for each area. IMR welcomes both medical and non-medical volunteers into our clinics. IMR collaborates with local health officials and the government in order to cater our medical clinics to meet the specific needs of the certain communities we are visiting. This allows IMR to provide more productive and effective health care. Our medical clinics serve as a bridge to build local and international relationships and provide a more sustainable way of care. IMR clinics screen patients for acute and chronic illnesses, and while we might not be able to treat chronic illnesses, we can refer patients to local resources and provide patient education in managing these illnesses. Our clinics do not just see patients, but we ensure that all of our patients walk out of the clinics with a better understanding of their own health in order to improve the communities overall well-being.
IMR clinics treat patients using a variety of procedures, including wound care, respiratory and nebulizer treatments, dehydration treated with oral rehydration solutions and IVs, and more.
Each of our clinics has a basic laboratory that provides a variety of testing, including UA, Hgb, malaria, pregnancy, glucose, HIV, and more. Additionally on most trips we provided reading glasses to those in need, greatly expanding the local communities capability. Sustainable and appropriate education is a significant component of every IMR mobilization and every patient encounter, so we partner with local health officials and volunteers to conduct community education health classes. It is paramount to IMR that our impact extends well beyond the days that IMR is in our host country.
More than half of early child deaths are preventable or can be treated with simple, affordable interventions including immunization, adequate nutrition, safe water and food and appropriate care by a trained health provider when needed
Hypertension affects 1.3 billion people worldwide yet only 1 in 5 people with hypertension are correctly managing their hypertensio
2.2 billion people have some type of vision impairment and of those 1 billion have preventable vision impairments that are yet to be addressedn
Medical & Dental Clinics Operated in 46 Countries
Argentina
Armenia
Bahamas
Bolivia
Brazil
Cambodia
Chile
Colombia
Costa Rica
Dominican Republic
Ecuador
Eritrea
Ethiopia
Greece
Guatemala
Haiti
Honduras
India
Indonesia
Kenya
Laos
Madagascar
Malawi
Mauritania
Moldova
Mozambique
Myanmar/Burma
Nepal
Nicaragua
Panama
Peru
Philippines
Puerto Rico
Romania
Rwanda
Senegal
Somaliland
South Africa
Tanzania
Thailand
Tonga
Trinidad and Tobago
Uganda
United States
Vietnam
Zambia
Related Posts from the Field
You've never really lived until you've done something for someone who can never repay you.Sometimes it can be something as
Read More »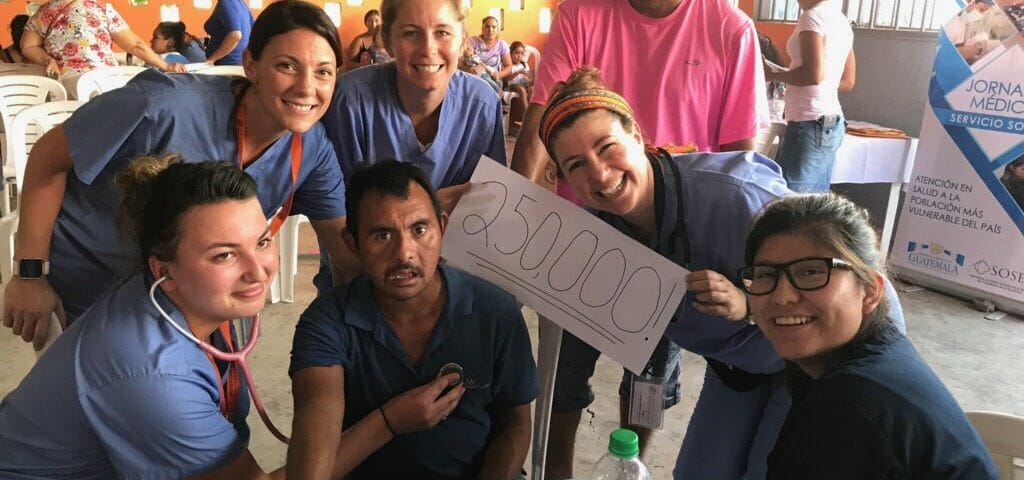 We had been getting close, and on our trip to Guatemala, it happened. We treated our 250,000th patient! The moment
Read More »
Amazing….. That's such a simple word but after spending this past week on my first international trip it is the
Read More »
Join Us in Making a Difference.
You can join an IMR medical mission team or donate today!