Providing areas and communities with adequate water, sanitation, and hygiene can greatly increase the overall well-being and health outcomes of a population. Access to safe water helps initiatives to improve sanitation and hygiene, which is all crucial to human health, well-being, and development. Reports show hundreds of thousands of deaths each year are being caused by unsafe drinking water, poor sanitation and insufficient hygiene practices.
This is why International Medical Relief (IMR) strives to regularly provide water treatment filters to communities who need it the most. IMR front line providers also implement community health classes specifically on water safety, sanitation, and hygiene in every single medical trip. These classes include teaching proper sanction techniques such as how to properly wash hands and the relationship between waste and drinking water. These classes together with the water filter have an immense impact on local communities in the 74+ countries IMR deploys to. We continue to partner with local health officials and communities in order to provide sustainable water, sanitation, and hygiene interventions.
IMR's solution and contribution to the clean water crises facing much of the world is to provide water filtration and community education classes. First IMR deploys sawyer filter which are gravity driven and have the capacity to filter up to 1 billion gallons. The fiber membrane filters distributed by IMR are developed using dialysis technology — the hollow fiber membrane filter has tiny U-shaped microtubes with pores no larger than 0.1 micron. They filter harmful bacteria and contaminants such as protozoa or cysts like E. coli, giardia, Vibrio cholera and Salmonella typhoid, which cause Cholera and Typhoid. The filter uses gravity and can be attached to any bucket or bag. The extremely fast flow rate and compact size – it weighs just 3 ounces – allows families and members of a small community to filter water as they need it, eliminating the need for a large water storage system.
In least developed countries, 22% of health care facilities have no water service, 21% no sanitation service, and 22% no waste management service
Contaminated water can transmit diseases such diarrhea, cholera, dysentery, typhoid, and polio
IMR water filters have already reduced water-borne illnesses by 75% in one village in Ecuador.
Clean Water Projects Completed in 13 Countries
Bahamas
Brazil
Cambodia
Ethiopia
Related Posts from the Field
You've never really lived until you've done something for someone who can never repay you.Sometimes it can be something as
Read More »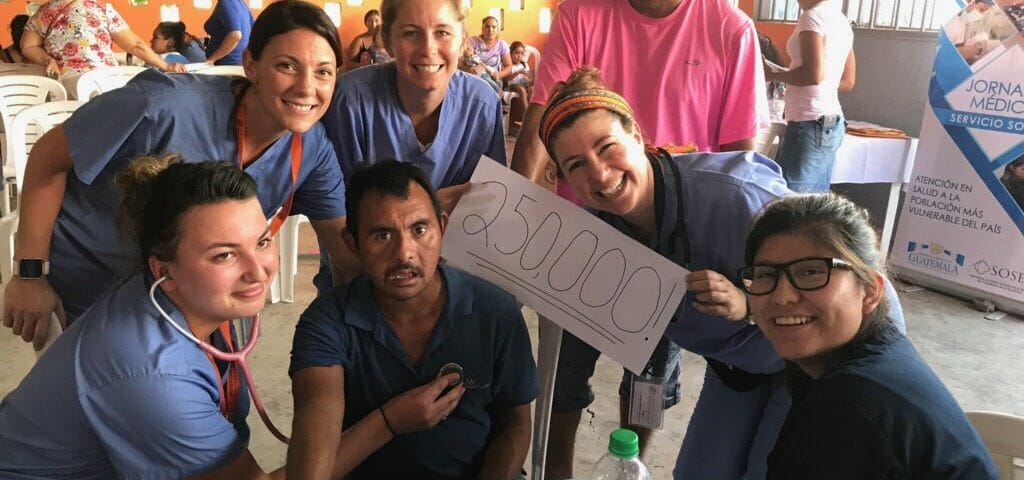 We had been getting close, and on our trip to Guatemala, it happened. We treated our 250,000th patient! The moment
Read More »
Amazing….. That's such a simple word but after spending this past week on my first international trip it is the
Read More »
Join Us in Making a Difference.
You can join an IMR medical mission team or donate today!