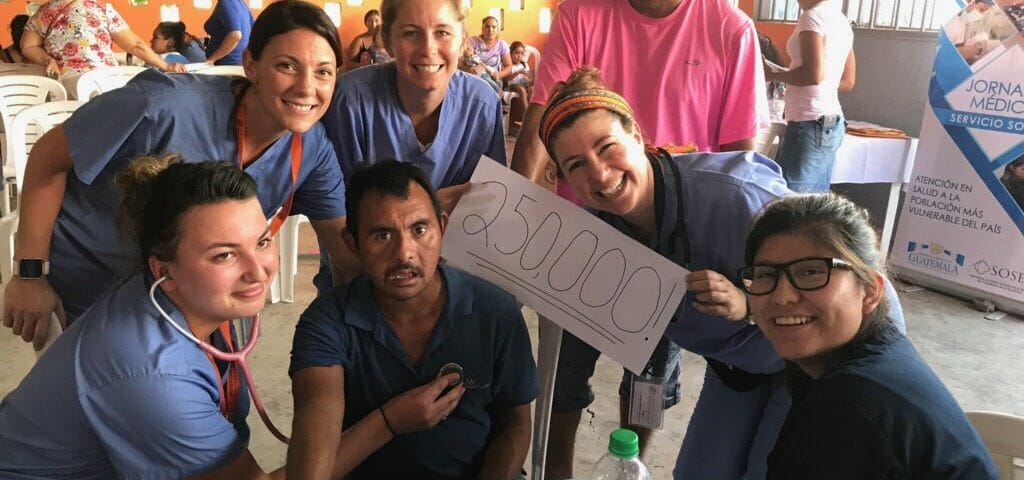 We had been getting close, and on our trip to Guatemala, it happened. We treated our 250,000th patient! The moment was tremendous and the team cried for happiness. Our patient was Alfredo. He is disabled and his mother has cared for him all of his 35 years. When he was born, she was told to leave him somewhere off of the side of the road, but she refused. Their community helps them and everybody pitches in. Alfredo can't speak or write, but he had tears in his eyes as we commemorated him as our 250,000th patient. He came to us with horrible belly pain and a terrible toothache. He visited our dentist and was treated by our entire team. Our team leader Evelyn washed his face and held his hand. He was embraced by all.
Team Leader Evelyn's Story: Alfredo is a 35-year-old developmentally disabled man whose mother takes care of him in a town on the southwest coast of Guatemala. I looked for him, as we knew we would hit that magic number for this trip and on this magical day. When I saw him sitting in Triage with the nurses and heard his story, how difficult it is for this population anywhere, let alone this very rural area of Guatemala, I listened with my heart and felt my throat tighten. Refusing to give him up, or away, his mother and the community he lives in watch out for him. He doesn't speak, he gestures. He mumbles in low sounds. He smiles and he cries. When we told him what a special patient he is and gathered to take pictures, tears filled his eyes and ran down his face: the emotion overwhelming and the kindness never seen or felt before. We brushed away his tears and I washed his face off with wipes. Tears spilling down our faces, we too were overwhelmed with the true gift of it all: That we were here, at this time, in this place, together witnessing something so amazing. He saw Nicole our amazing dentist and now will have less pain and be able to eat. Dr Jane saw him for a rash he's had for so long, and belly pain. He communicated with nods and shakes of his head. In very capable hands, he and his mother were taken to the pharmacy for medications and soaps. Such simple items… gold to him.
I think my mom helped me find him or he find me. I was always taught to live and act with kindness. I learned to be a voice for those who have none… We all speak for you Alfredo, and will continue to speak for the others left behind…
Join Us in Making a Difference.
Bring much-needed acute medical and dental care to a beautiful, culture-rich destination. You can join an IMR medical mission team today!