IMR clinics include three basic components: acute medical care, acute dental care, and community health education. Our teams consist of a variety of medical and non-medical volunteers, including medical providers, dentists and dental staff, PAs, NPs, nurses, EMS, non-medical personnel, and an IMR staff clinic director. The make-up of each team is unique and the services we provide to patients are, in part, specialized to meet the expertise within the team.
Medical Clinic Routine
IMR welcomes all medical and non-medical volunteers in our clinics.  Physicians, advanced practice providers, nurses of all levels of training, medical and dental assistants, emergency services personnel, and students of every kind are welcome here and collaborate closely so that we don't just see patients, we see patients well.
Clinic hours vary depending on location. We strive to see as many patients as possible and, depending on the location, generally average 250-300 patients per day. As in any acute care setting, some patients will be well and others very sick. IMR clinics treat patients using a variety of procedures, including wound care, respiratory and nebulizer treatments, dehydration treated with oral rehydration solutions and IVs, and more.
Each of our clinics has a basic laboratory that provides a variety of testing, including UA, Hgb, malaria, pregnancy, glucose, HIV, and more. We provide education for patients living with chronic conditions and assist patients with referrals to appropriate care centers and hospitals for long-term care.
Our non-medical staff fill a variety of important roles in the medical clinic and are hands-on caring for patients every day.  These roles include: scribing and assisting our providers and nurses; teaching health education classes; taking patient's vital signs and assisting in the triage process;  assisting in pharmacy; and helping patients move from one part of clinic to another.  Simply holding a baby for a sick mom can make all the difference to that patient.  Learning first hand about leishmaniasis will make all the difference to our non-medical volunteers.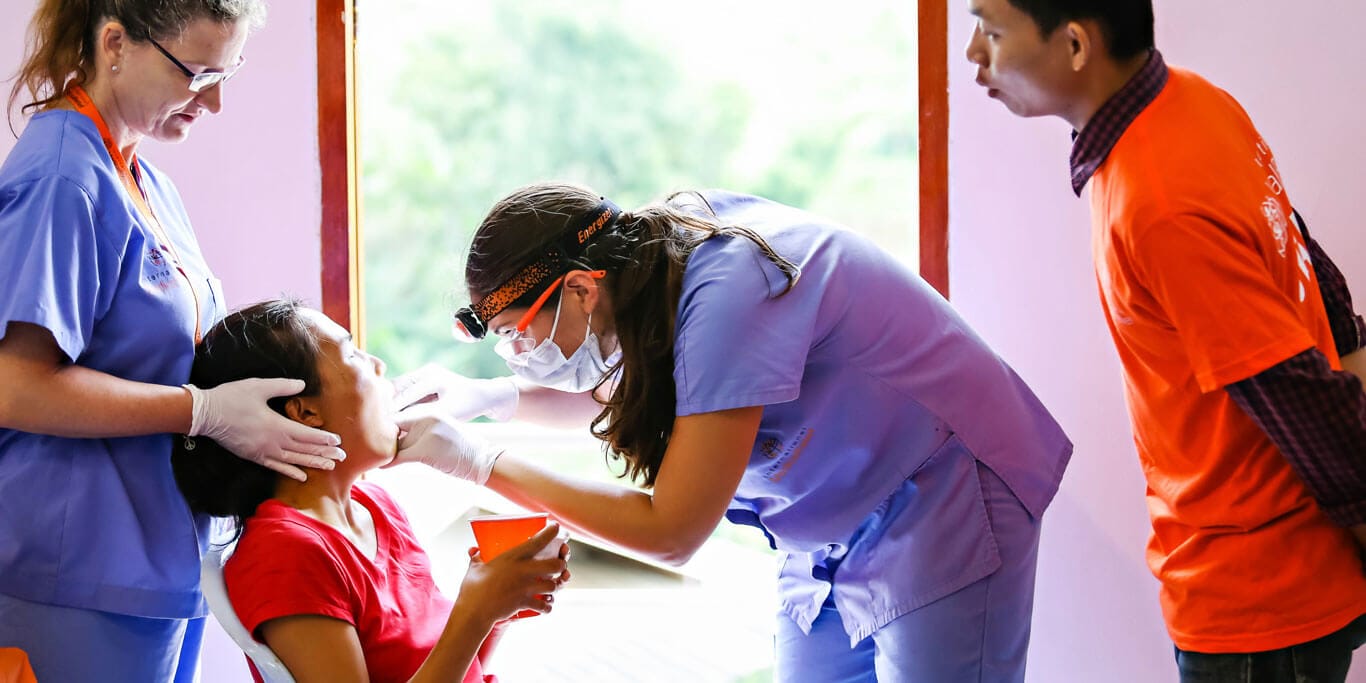 Dental Clinic Routine
Dental clinics run simultaneously with the medical clinics, and patients frequently visit both clinics. Dental examinations, cleanings, fluoride treatments, and extractions are the primary procedures, and oral health education is provided to all patients. The dental clinic is a very busy department in our clinics and provides many opportunities for working, learning, and teaching.
We need every type of dental professional to make our clinics as effective as possible including dentists, oral surgeons, dental hygienists, dental assistants, dental office staff, and pre-dental students.
Community Health Education
Community health education is a primary, sustainable piece of our mission. We strive for every patient to receive relevant health education classes in addition to a medical and/or dental examination and treatment. Our goal is to provide patients with as much understanding of disease and how to prevent it, as well as how to stay healthy, as we can. We focus on:
In addition to prevention, we also provide education on how to correctly take the medications prescribed in clinic, recognizing symptoms for self-treatment, and the importance of hydration and rehydration.
Join Us in Making a Difference.
Bring much-needed acute medical and dental care to a beautiful, culture-rich destination. You can join an IMR medical mission team today!