Surgical teams on an IMR surgical mission are made up of surgeons of varying specialties. In conjunction with our partner hospital, we recruit for surgical cases that match up with the team's ability to provide care. Surgical missions average 14 days because they include adequate time for pre-screening candidates, setting up a surgical rotation, and providing post-surgical care and training for follow up with local providers.
Inadequate financial resources of patients and hospitals often prevent those most in need from obtaining simple surgeries that are often life-changing. IMR, in conjunction with our partner hospital, helps connect these patients with our surgical team and provides transportation for the patient and family, follow-up care, medications, and supplies. Our organization has hosted several surgical camps ranging from general surgery to plastic surgery. Teams have treated patients that have severe burns requiring skin grafts, as well as patients needing cleft lip/palate/nose repair. 
Our plastic surgery teams have treated patients ranging from 4 months old to 70 years old. We have also brought patients to the U.S. for surgical treatment. IMR has provided sight-saving eyelid surgeries for children with ichthyosis and fistula repairs for women in Africa. When not treated, women with fistulas have been ostracized in their communities and segregated from their families.  
As a surgeon or member of one of our surgical teams, you understand very well the importance of your expertise and work, often resulting in lives saved. Your impact in a vulnerable community with little to no access to healthcare will be extraordinary.
Six months ago while on a mission to Cambodia with International Medical Relief, I met two lovely siblings with a rare skin condition that also affects their eyes. They both required surgery to preserve their eyesight. Today I had the opportunity to be a part of their surgery in Vietnam. I am so grateful for this experience, that their surgery was successful, and that I was able to reconnect with these amazing kiddos.
The IMR Haiti Medical Mission Trip was an amazing experience! I had the opportunity to meet, work with and get to know some of the most amazing people. We were able to help over 1,000 people in Haiti. They were very kind and glad to have us. I only wish we were able to do more for them.

To my family and friends, I could not have done this without your love and support! THANK YOU so much!!

To my IMR crew, you guys and girls were amazing. It was an honor and a privilege working with you. I'm going to miss you all!!

Thank you all for making this possible!
It's true that despite the color of our skin or the language that we speak, we are more alike than different. Our hearts beat the same, we smile the same and love the same.

Thank you to the people of Haiti for filling my heart with so much gratitude and reassuring me that this is what I am meant to do. Thank you to International Medical Relief for allowing us to provide care for over 1,000 citizens and allowing me to work with an amazing crew! Until next time.
Finally back in the states after traveling for over 24 hours. It was a very long journey and I've had a lot of time to reflect back over the last week. It is so good to be back, but at the same time, I am sad that this amazing experience with an absolutely amazing team has come to an end. Even though I was scared to death about doing this on my own, this experience has far exceeded any expectations I had and I've made some wonderful new friends.

My heart is truly so full and I am so thankful I was able to be a part of this team. The team was made up of 42 amazing people from all over the U.S. The people of Kenya were absolutely wonderful and so kind and gracious. We were able to help 1,377 patients on this mission!!

If anyone is considering a mission mission, I hope you will consider International Medical Relief. I definitely hope to do more missions for sure and I will never forget this mission of a lifetime.
Truly humbled by this experience. It's been amazing to not only work beside such a diverse group of people with a fellow passion for medicine, but to also care for these people who are so kind and patient.

Together we have triaged, diagnosed, prescribed for, and treated over 600 patients in just three days, and will continue for a few more days. We've seen everything from malaria, infectious wounds, amebiasis, tuberculosis… to appendicitis, sepsis, and splenomegaly.

All with the help of some skilled, hardworking translators.

It's been exhausting but rewarding, and one of the few times in life I'm eager to wake up and start the day.
During IMR's week in Haiti, our team was able to care for more than 1,000 people.

It never ceases to amaze me how great of an impact people can have when we come together for a unified mission. I mean, our team was just a bunch of strangers that all gathered in one place, with one goal: to serve and give to the people of Haiti.

How amazing!

To give selflessly is truly the GREATEST experience of being human. Thank you to IMR for being an organization that strives to make a difference in this world.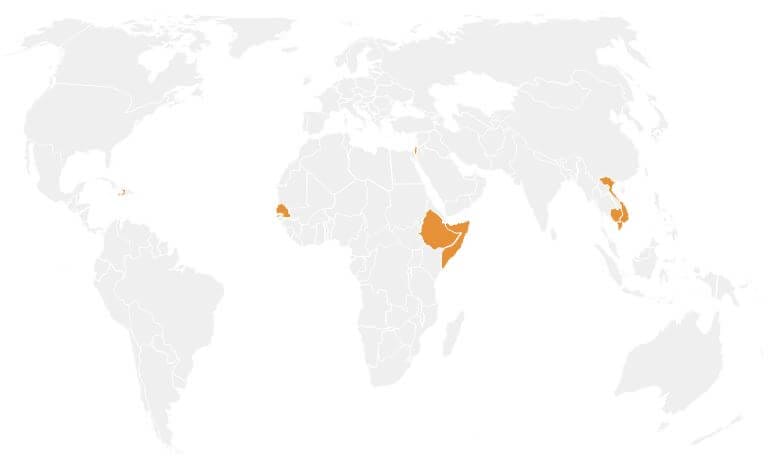 Surgical Operations Delivered in 7 Countries
Join Us in Making a Difference.
Bring much-needed acute medical and dental care to a beautiful, culture-rich destination. You can join an IMR medical mission team today!