Libya – 2011 Civil Conflict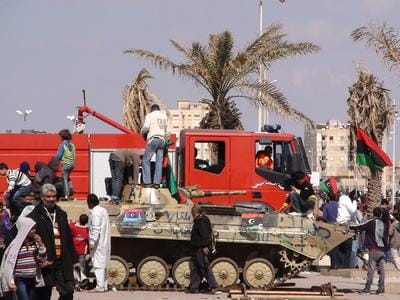 The first Libyan Civil War was an armed conflict in 2011. This civil conflict erupted with the Libyan Revolution, also known as the 17 February Revolution. On March 2, 2011 the World Health Organization (WHO) estimated that approximately 2,000 were killed. Other sources are reporting that over 6,500 people have died. The numbers continued to grow as months went on, but regardless there was a huge public health and humanitarian situation as a result of this civil conflict.
By the end of February (2011), supplies such as medicine, fuel, and food were dangerously low in Libya's urban centers. Many people were affected by the violent unrest in Libya, and in early March, the fighting across Libya caused more than a million people to seek refuge outside of the country. Libya was in great need of humanitarian aid and relief. Fleeing the violence of Tripoli by road, as many as 4,000 refugees were crossing the Libya–Tunisia border daily during the first days of the uprising. Among those, escaping the violence, were native Libyans as well as foreign nationals including Egyptians, Tunisians and Turks.
In mid-March, one of our partner organizations was contacted about delivering aid to Libya and to migrant workers and refugees on the border. "It was important for International Medical Relief to answer the call to deliver medications and medical supplies to a hospital in Benghazi. These people are enduring great hardships and are on the brink of revolutionary change", said Shauna King, Founder and President of International Medical Relief (IMR)
We quickly pulled together our support for a hospital in Benghazi which have been hand delivered and distributed through our partnership with local organizations in Libya. Partner organization, HISG, personally delivered the valuable medical supplies to Benghazi. These supplies were given to the new Provisional National Council's Director of Crisis Management, and to a high-ranking official with the Ministry of Health.
To say I had a wonderful time in the Bahamas doesn't begin to cover it. Serving the people of the Bahamas was a beautiful, and humbling experience! I learned so much, and grew both as a nurse and person. I am honored to serve such gracious people.
Join Us in Making a Difference.
Bring much-needed acute medical and dental care to a beautiful, culture-rich destination. You can join an IMR medical mission team today!