Celebrating 10 Years of International Medical Relief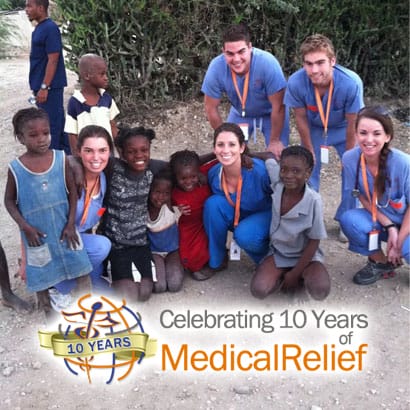 In October, of 2002 International Medical Relief was founded. Today, we celebrate this monumental 10 year anniversary by helping others celebrate their 10th birthday. We help some of the 7.6 million children that die each year of preventable causes, and want them all to reach their tenth birthday. 80 percent of the world will never step foot into a health care facility. IMR directly impacts these communities in Asia, Eastern and Southern Europe, Central and South America, the Caribbean, Africa, and America. With our sustainable model of community health education we can save these children.
Our organization has touched hundreds of thousands of lives over the course of this past ten years. Over 500 volunteers have served as ambassadors with IMR volunteeringoverseas on medical trips with our organization, and many of them come back as alumni.
IMR has put first responders in the field in every major natural disaster including Hurricane Katrina, earthquakes in China, Chile and Haiti, Myanmar's Cyclone Nargis, the Philippine floods and the Indonesia Tsunami. In Haiti alone, IMR was on the ground four days post quake with two first responder teams of surgeons and medical professionals. In two years alone, IMR has treated over 35,000 Haitian patients on 20 medical trips consisting of approximately 52 IMR Volunteers and Haitian Staff per team. We have provided over $13million USD of gifts, equipment and services to the people of Haitiover this time. We have partnered with over a dozen Haitian organizations and NGOs, 6 Haitian hospitals, trained and mentored Haitian medical and dental students in our residency model clinics.
IMR has been able to provide over $50,000,000 worth of goods and services including free medicine (newly purchased – not expired), medical care and equipment including surgical instruments and equipment, dental instruments, hospital and clinic equipment medical and surgical care.
IMR has provided over 1,000 surgeries in the last ten years by bringing patients to the US for surgeries or bringing surgical teams into the field. Surgeries we have provided include: general surgery, vaginal delivery and c-section, fistula repair, cleft lip/pallet/nose repair, skin graft, goiter removal, oral surgery, and numerous post-disaster trauma surgeries.
IMR has been active in collecting epidemiologic data on infections and disorders seen in the field worldwide that is shared with partner organizations. Our research on advanced malaria includes findings of unidentified strains of malaria found in Central America. We are in a unique position to see the overall health of a community that we serve, not just those presenting withillness, so our epidemiology data encompasses the entire health of a community, not a segment of the population.
One value of our short-term medical missions model is that it provides an avenue for sustainability. IMR provides a hand up to the communities we serve, not just the handout of medicine. One of the greatest assets that our teams leave behind is our knowledge. Community health education workshops allow us the opportunity to look at the root cause of disease and help these communities to improve and sustain their overall health and wellness. We provide courses on environment health, disease specific health, and prevention and wellness topics that directly impact the communities we serve long term. Simple knowledge on hand washing and sanitation go a long way to saving some of those 7.6 million children that die before their 5thbirthday. Help us to help them reach their 10th birthday and beyond.
IMR Volunteers are given an avenue to serve others by providing humanitarian care in a medical setting. Our volunteers serve those with limited or no access to healthcare. This organization exists because of the generosity of others. Our donors and our volunteers make this work possible. On every trip our volunteers walk away with aspecial and unique story about a patient that touched their life, a child that was saved, a mother that learned how to care for her sick children. It isn't just that our volunteers provide medical care or save lives, these volunteers heal in many ways. We provide hope for the patients and communities, hope for a better future for them, and hope for a better tomorrow. Thank you for your support.
Join Us in Making a Difference.
Bring much-needed acute medical and dental care to a beautiful, culture-rich destination. You can join an IMR medical mission team today!