Short-Term Missions for Undergraduate Students
About IMR – For Undergraduate Students
Short-term medical mission trips for undergraduate students with IMR will help you expand your school boundaries and transform the world into your classroom.
If you're a current or aspiring medical, dental, or health-related student looking to gain experience or insight into global health, mission trips from IMR offer the exciting opportunity to participate in patient care in a clinic setting under the direct supervision of licensed medical professionals.
Through a tailored combination of mentoring, observation, and tutorial, International Medical Relief's clinic-based short-term medical mission trips will give you a unique perspective of the rewards and demands of a medical career. We'll help you develop a better understanding of myriad global healthcare issues, narrow your scope of interest, and give you an edge when it comes to completing university or medical school applications.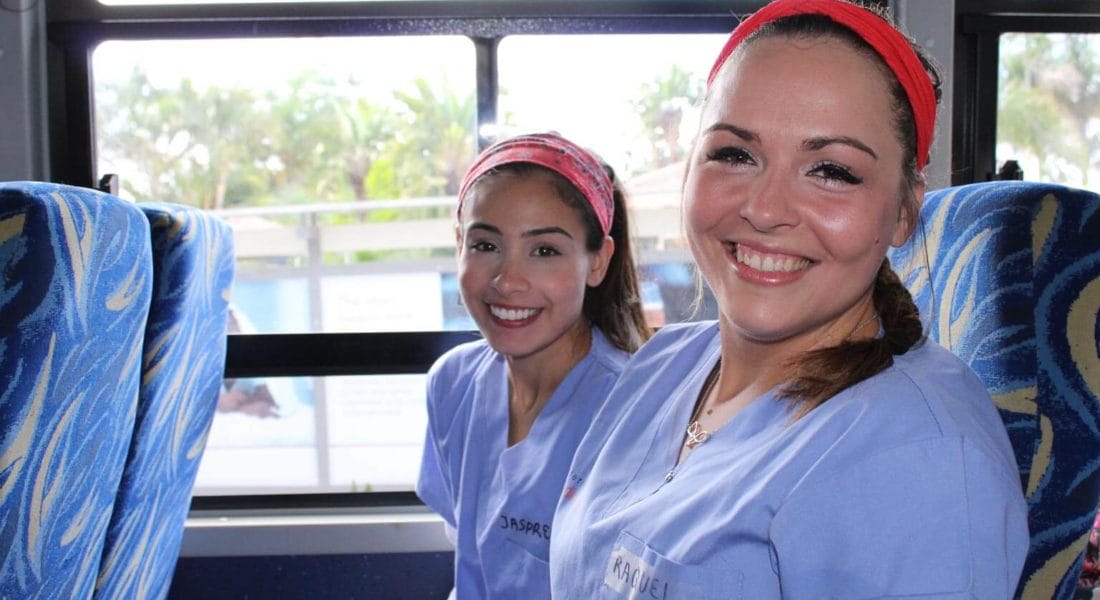 Why a Short-Term Medical Mission Trip with IMR?
Get Class Credit while Exploring the World!
IMR works with universities across the country to help both medical and non-medical students participate in our medical mission trips.
Students interested in pursuing a medical career have found their experience in the field with IMR to be enormously valuable in supplementing their education. Gain 80-110 clinical hours on each mission while shadowing providers and having opportunities for hands-on patient assessments and direct patient interaction.
IMR student volunteers are heavily involved in the running our clinic operations, as they assist in pharmacy, patient intake, clinic triage, provider-patient care, and direct patient education on preventative and community health topics. You will receive a certificate of participation and, upon request, may receive letters of recommendation from your team leader and other volunteers you work with in the field to add to your portfolio.
If you are looking to make your grad school application more unique, adding international experience to your resume is a definite plus. Review boards will be impressed that you were able to fit in a medical mission with your packed schedule. More importantly, your mission abroad demonstrates that you have interests beyond the classroom that you actively pursued with dedication and heart.
Gain Hands-On Experience with Service Learning
Our clinic-based missions are designed to help you understand the realities of life in the medical field. You'll serve with team members from a variety of backgrounds working with medical professionals who will mentor you in this real clinical environment. One day you might be shadowing in pediatrics as a doctor conducts a procedure, the next you might assisting a nurse practitioner with burn injuries. You'll gain experience in every department necessary to run a clinic: intake, vitals, triage, treatment, diagnosis, pharmaceutical instruction, and community education. IMR matches your interests and specialties to maximize your opportunity.
Whether it's shadowing a doctor in South America, participating in healthcare outreach in Asia, or helping to treat infectious diseases in Africa, we design IMR missions for both global and medical experience.
IMR's All-Inclusive Clinicals Abroad Experience
We Make the Arrangements
Travel with ease as IMR caters to all of your arrangements from beginning to end. Your experience includes international and in-country transportation, in-country lodging and meals, and all ground logistics. You'll work in clinics fully stocked with supplies, medicines, and diagnostic equipment for the team's utilization. Your seasoned team leaders have vast international humanitarian experience and medical backgrounds.
Our number-one priority is that you are comfortable, safe and secure during your time with us to make this the best experience of your life. To help put your mind at ease, all of our missions take place in friendly communities that will welcome you with open arms. Parents and family members are always welcome to participate in our pre-field training and conference calls. We have round-the-clock staff members who are just a phone call away in case of emergency while you are abroad.
Take the first step towards this life-changing experience. New friends, new cultures, new skills and memories await. We know you are excited, so why not get started on your application?
Join Us in Making a Difference.
Bring much-needed acute medical and dental care to a beautiful, culture-rich destination. You can join an IMR medical mission team today!