Medical Mission Trips to Vietnam
Thank you for your interest in IMR's medical mission trips to Vietnam! This is a very unique opportunity to work with populations that have little to no access to healthcare and make a huge impact on their lives.
The Vietnam you see today is steeped in ancient rites and traditions that have survived throughout history. However, the Vietnamese are suffering tremendously due to their poor health care system and lack of resources. Doctors are disproportionately located in inner cities leaving the rural villages without adequate access to care.  Consequently, thousands die every year in Vietnam due to preventable illnesses. Infectious diseases, such as Dengue fever, still remain a big public health concern in Vietnam. Also, non-communicable diseases are having a strong impact in rural communities. International Medical Relief is partnering with Vietnam to achieve a major goal of the country: to improve access to healthcare and preventative education to health conditions. This is why International Medical Relief (IMR) has been invited to the rural areas of Vietnam: to provide quality medical assistance to citizens who would otherwise be unable to access it.
For clinic, your team will travel to many small villages on the plains and in the mountains to provide medical aid to communities that are left out of the healthcare system. You will help provide expert medical care, including lab work, and will help educate locals about the importance of hand washing, oral hygiene, purification and storage of drinking water, family planning, safe sex, and pain management. You will treat entire families, the elderly, war victims, and vibrant young people.
Join International Medical Relief (IMR) in providing quality medical care for the communities surrounding Da Nang. The team will care for those with the greatest need for medical attention. Our clinics are nestled among the throwback of centuries old traditions in Vietnam. Engage with this culture first hand as you provide greatly needed medical care to the densely inhabited communities. Those left out of the medical system will not only get medical attention, but will also be given needed education to help them survive in places where healthcare is difficult to access.
International Medical Relief began sending medical mission trips to Vietnam in 2016. IMR continues to grow and strengthen our partnership with communities within the country and has since had 131 volunteers and staff working with more than 3,000 patients. 
With diligent planning and preparation, IMR is dedicated to ensuring that specific goals are met on our missions, each in correlation to the United Nations Sustainable Development Goals 3 and 17.
IMR works to elevate vulnerable populations through shoulder-to-shoulder care with our local partners, creating workforce density, and a cadre of future healthcare and public health leaders in association to UNSDG 3: Good Health & Wellbeing. 
In correlation with UNSDG 17: Partnerships for the Goals, our organization works in collaboration and at the request of local hosts where we are under their direct influence and affluence. IMR never goes into a country without a formal invitation where there is a great community need for medical or dental care, and health education.
The Vietnam you see today is steeped in ancient rites and traditions that have survived throughout history. However, the Vietnamese are suffering tremendously due to their poor health care system and lack of resources. Doctors are disproportionately located in inner cities leaving the rural villages without adequate access to care.  Consequently, thousands die every year in Vietnam due to preventable illnesses. This is why International Medical Relief has been invited to the rural areas of Vietnam: to provide quality medical assistance to citizens who would otherwise be unable to access it.
Your team will work on the Central Coast of Vietnam. You will have the opportunity to get to know two distinct cultures within this beautiful country as you travel to small villages on the plains and in the mountains. Your team will stay in a modern hotel in Da Nang and in comfortable accommodations in the mountains.
While the most rewarding aspect of this trip will be caring for Vietnam's rural residents, the team will also have the opportunity to participate in Vietnam's famous Full Moon Festival in the ancient port city of Hoi An.  You will visit the wondrous caves of the Marble Mountains and spend time in the magnificent UNESCO site of My Son Sanctuary.
You will enjoy the most flavorful foods available in Vietnam, including mì quảng (rice noodles with turmeric and fish or meat), bún chả cá (fish ball noodle soup), bún mắm (seafood gumbo), cánh gà chiên mắm (fried chicken wings in fish sauce), and mít trộn (a salad mixed with jackfruit and pork rind). Don't miss the Pho – soup for breakfast is the only way to start the day – although the strong Vietnamese coffee, sweetened with thick condensed milk, isn't a bad way to start things off either!
You're journeying across the globe. Why not extend your stay in Vietnam to experience some of its top tourist attractions? Join International Medical Relief on an exclusive trip extension provided by our partner Worldwide Navigators and some visit of the area's highlights. Explore Thein Canh Son cave, which is covered in stalactites and stalagmites, or take a luxury boat cruise in Ha Long Bay, a UNESCO World Heritage Site.
Itinerary is subject to change without notice.
Day 1
Today you will depart for Vietnam.
Day 2
If you are here during the Full Moon Celebration: arrive and meet up with the team, then we will head to the port city of Hoi An for a wonderful celebration of the full moon. The full moon holds tremendous significance to the Vietnamese people. After spending a bit of time seeing the town, as the sun begins to sink you will make your way to the river's edge with your lantern in hand. Warning! It will be dark as all of the town's lights are shut off. Light your candle and let your lantern run free down the river along with thousands of others. What a magical experience!
Day 3
Your team will hold clinics in a village not far from Da Nang as well as in the hill country outside the city. Many elderly will attend the clinic, as well as those who have been severely impacted by wars and loss. Your medical and dental skills will be of great comfort to these people. Before leaving clinic, take a short walk to the beautiful rice paddies nearby clinic. 
Days 4-6
Get ready for a magnificent ride through mountains followed by a 1/2 day of clinic in the rural area of Tra My. Spend the next 2 full days in clinic in Tra My.
Day 7
Today we will head to the Que Son district. The area saw heavy fighting during the Vietnam War, and you are likely to see war veterans in clinic who still have lingering effects of their injuries.
Day 8
Following our last day of clinic we'll have an amazing stop to spend time in My Son Sanctuary, a UNESCO World Heritage Site.
Day 9
Today is your departure day!  Thank you for your hard work and volunteer spirit.  Depending on your flight time, you may have a few minutes to explore Da Nang or head to the beach.  The day is yours. If you are flying on the IMR group flight, your airport transportation has been arranged for you. 
Crisis Management & Emergency Response
We take security very seriously at IMR. It is our job to ensure that security precautions are in place, but please keep in mind that we cannot guarantee your safety on the trip.
We continuously review all current activities occurring on the ground, and we work with the State Department and the U.S. Embassy to know the ground situation to the best of our ability.
A security training conference call is available to our volunteers where we detail our security procedures that are in place for the trip.
We take many security precautions such as radios, a buddy system, emergency evacuation plan and security planning.
We protect the privacy of our volunteers in the field and provide them with customized contact information for their use.
During our mandatory briefing, team members review our safety protocols, evacuation procedures, protocols for illness, natural disaster and terrorism.
We provide training to our teams to be cognizant of their own safety and to be aware of their surroundings.
Several policies require teams to adhere to safety issues.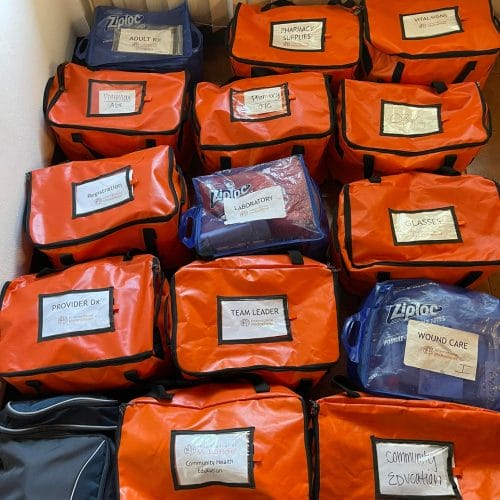 A service that we are very proud of at IMR is the preparation that each team and team member receives prior to the trip. All team members will receive a detailed briefing packet about the country you are serving. In addition to receiving background information about the country and the public health issues affecting local communities, you will also receive detailed information on fundraising, community health education topics, clinic protocols, and a comprehensive departure packet. All of these materials are critical to the preparation for your trip. Finally, a guide to the infectious diseases of the country is distributed to medical providers prior to departure.
Your generous donation helps to save and change lives everyday.
Your charitable investment will go toward ongoing global relief to care for the underserved and vulnerable people of this community. As a member of this medical mission team, you will elevate the long-term impact of sustainable, capacity-building efforts that improve the health, wellness, and quality of life of those most in need. A small portion of your donation includes:
Clinic supplies and medications for patients
Clinic participation
Transportation, accommodations, and meals as outlined in the itinerary
To save $200, a 50% donation payment must be received 14 weeks before the mission's scheduled start date. Full donation payments must be received 4 weeks before the mission's scheduled start date.
Early Bird Savings Opportunity
To be eligible, upload all your required documents and forms, and make a minimum of 50% of your donation payment by 14 weeks prior to your mission's scheduled start date.
Volunteer with Airfare
You may choose to book a flight with us for an additional fee. Details on the available flight routing and US departure city will be announced on the Early Bird Date. Airport transportation to and from the team's accommodations are also included with this option. Depending on your departure city, you may still need to purchase another flight in addition to this one. After this flight has been booked, you may contact our travel agent, Worldwide Navigators, for assistance booking any necessary additional flights.
Benefits of Flying at a Subsidized Rate
Volunteer without Airfare
Many team members choose to book their flight(s) to and from the mission location independent of IMR. This is a great option if would like to extend your stay in the area to tour and explore, or if the routing from you home airport is more feasible for you. If you choose to fly independently, please note that your transportation in between the airport and the team's accommodations will not be provided. This will need to be arranged separately. Our partner for travel, Worldwide Navigators, would be happy to assist you in coordinating flights and/or transportation. You can contact them at travel@worldwidenavigators.com.
Benefits of Flying Independently
IMR provides a fundraising packet to all registered trip applicants that is full of ideas on how you can raise support for your trip or for supplies to be utilized on this specific mission. When soliciting donations for any of our trips, success is completed through telling your personal story. Why do you want to go? Who will you help? Why their donation can help you achieve the ultimate goal. Tell your story to anyone and everyone. Refer your potential or active donors to our website or Facebook page and to your personal fundraising page. You may share your personal fundraising URL on Facebook and other social media sites.
Join Us in Making a Difference.
Bring much-needed acute medical and dental care to a beautiful, culture-rich destination. You can join an IMR medical mission team today!