Medical Mission Trips to Trinidad and Tobago
Thank you for your interest in IMR's medical mission trips to Trinidad and Tobago! This is a very unique opportunity to work with populations that have little to no access to healthcare and make a huge impact on their lives.
The Republic of Trinidad and Tobago, is a twin island sovereign state that is the southernmost nation in the Caribbean. Trinidad and Tobago has one of the highest non-communicable disease rates. This is why education plays a key part in elevating the overall health and wellbeing of the population in Trinidad and Tobago. Also, although water resources in Trinidad and Tobago are relatively abundant, there are several challenges that raise high concerns related to the status of water security in this country. Water quality deterioration in source water including rivers, groundwater and coastal waters are due to pollutants from industrial wastes, leaches from landfills, or direct discharge of domestic sewages and farms. Not only is water security an issue, but also Trinidad and Tobago is located in an area where frequent natural disasters strike. These natural disasters, such as cyclones and floods also disrupt the already stressed water supply and causes other factors that decrease the overall health of the population.
In Trinidad and Tobago, there are not enough healthcare providers or facilities to serve the population. While the island does have health centers, many are understaffed and undersupplied and although most of the existing healthcare services are free, patients are frequently unable to obtain care, even on an emergency basis. To help provide quality medical care to all citizens, International Medical Relief sends volunteers to remote areas of the country to provide quality health care and medical services. Our mobile clinics offer assistance to children, women, families, the elderly, and other in-need populations. Come and join the IMR team as we continue our work with our partners in Trinidad and Tobago to help improve the quality of life for this incredible nation.
International Medical Relief began partnering with Trinidad and Tobago in 2018. Since then we have responded with nearly 100 staff and volunteers and served more than 1,300 patients. We will continue our preventative efforts by providing medical relief and sustainable health services, including community health training, medical treatments, medical supplies and equipment, and clinic operations.
With diligent planning and preparation, IMR is dedicated to ensuring that specific goals are met on our missions, each in correlation to the United Nations Sustainable Development Goals 3 and 17.
IMR works to elevate vulnerable populations through shoulder-to-shoulder care with our local partners, creating workforce density, and a cadre of future healthcare and public health leaders in association to UNSDG 3: Good Health & Wellbeing.
In correlation with UNSDG 17: Partnerships for the Goals, our organization works in collaboration and at the request of local hosts where we are under their direct influence and affluence. IMR never goes into a country without a formal invitation where there is a great community need for medical or dental care, and health education.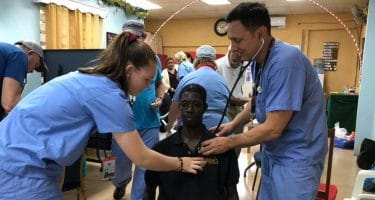 Come and join the IMR team as we continue our work with our partners in Trinidad and Tobago to help improve the quality of life for this incredible nation. Upon arrival, the locals will proudly welcome you with their bright Caribbean spirit. During your visit, you will enjoy authentic cuisine that is comparable to Creole, but made with local, bold spices.
Trinidad is home to boisterous carnivals and calypso music, as well as the Caroni Swamp. You can view the rare Scarlet Ibis in the Caroni Bird Sanctuary, a 40-acre mangrove island located inside a 15,000-acre swamp! The birds are most active during the last two hours of daylight, so we'll be sure to go and catch the golden sunset at the sanctuary.  You will also have time to visit the Hanuman Temple during your stay.
Your accommodation offers wifi, an exercise gym, air conditioning, and a hearty continental breakfast each morning. You will be very comfortable here after a long day of work!
The team will fly into Piarco International Airport, just a few minutes from your hotel.  Clinic locations are already set in a variety of locations on the island, all serving patients with the greatest need. Transportation will be by private coach with safe, professional drivers. We can't wait to have you with the IMR T and T Team!
While the most rewarding aspect of this trip will be caring for the people of Trinidad, your team will also have the opportunity to visit some of the country's top destinations.
Since this is one of the most beautiful places in the world, you will experience mouth-watering cuisine, be amazed by the sheer volume of the beautiful Scarlet Ibis and white Herons during your visit to the Caroni Bird Sanctuary, visit Hindu temples, and view local marine and beach life.  The music will give you a calypso beat as you mix island life, steal drum bands, and loud local music from the cars going by with the excitement and satisfaction of caring for people and improving their health for the future.
All food is typically provided during your stay. Please refer to your unique itinerary on our website to review which meals are provided each day. We may hire local people to cook for the team during our visit, or we may eat at restaurants or hotels. Lunch in clinic may include sandwiches made by the team or a feast prepared in your honor by community leaders. We recommend bringing snacks to eat during the day or evening or to supplement your lunch. High protein/high fat/high energy snacks are best. IMR also provides all of the drinking water for the team. Hydration and nutrition are extremely important for the health of the team. You are the best judge of your own health so please pack appropriate snacks and stay well hydrated on the trip.
Since you are already venturing across the globe, have you considered extending your stay by a few days to see Trinidad and Tobago's top tourist destinations? Did you know IMR offers an exclusive three-day extension to its volunteers?
Trinidad and Tobago is the birthplace of calypso, soca, chutney, and parang music, as well as the Steelpan. The diverse cultural and religious backgrounds of the locals will enchant you, but the beaches will take your breath away. Here you can watch a cricket game or, if you prefer, American Football! If you are adventurous at heart, you can zipline, explore the rainforest, or snorkel in the country's crystal-clear waters. No matter what you choose to do, the bands will delight you and the calypso-style dancing will get your feet tapping!
For more information, please contact our preferred travel agency, Worldwide Navigators. Their team of experienced agents and travelers is available via email at travel@worldwidenavigators.com.
Itinerary is subject to change without notice.
Arrivals
You and the team will fly into Piarco International Airport (POS). Upon arrival, your team will transfer to your nearby hotel where you can check-in and freshen up. The evening will be spent meeting your fellow team members and participating in a team orientation. Your team leader will assign roles for clinic, address IMR's clinic protocols, and discuss the communities you will be serving. Rest up before an exciting week ahead!
Day 2
Orientation & Training Day
You and your team will provide training for local healthcare providers to continue IMR's long-term, sustainable education efforts. Education is as important as medical and dental care for our patients. Each clinic includes basic health education according to the specialties and skills of the IMR volunteers, as well as the needs of the local people. When communities become empowered to take health and wellness issues into their own hands, they become self-sufficient. IMR provides learning opportunities for the local communities through classes and hands-on learning to sustain their well-being beyond our visit.
Days 3-6
Clinic
Rise early for clinic each morning. You'll work hard, long, and very rewarding days! You will have the opportunity to work in some of the poorest communities on the island. You will also have the opportunity to help teach the community about hygiene and how to stay healthy. In the evenings, you will have a chance to soak in the rich culture of this incredible island. Steelpan drums and Calypso dancing await!
Day 7
Cultural Day
Today is your day to indulge in the local Caribbean spirit! You will have time to lounge on some of the most picturesque beaches, browse local markets and craft stands for treasures to take home! In the evening you will come together for your farewell dinner where you will enjoy authentic Caribbean cuisine!
The Caroni Swamp is home to the Scarlet Ibis, the national bird of Trinidad and Tobago.  Join IMR as a thank you for your service to see the incredible nesting area of the Ibis, Herons, and more at dusk as you travel by small boats with knowledge guides who were responsible for saving these birds from habitat loss in the last 25 years.
Day 8
Departures
Sadly, the time has come to say goodbye. Enjoy a final breakfast with your team and one last dip in the hotel pool. Airport transportation is provided for all group flyers.
Crisis Management & Emergency Response
We take security very seriously at IMR. It is our job to ensure that security precautions are in place, but please keep in mind that we cannot guarantee your safety on the trip.
We continuously review all current activities occurring on the ground, and we work with the State Department and the U.S. Embassy to know the ground situation to the best of our ability.
A security training conference call is available to our volunteers where we detail our security procedures that are in place for the trip.
We take many security precautions such as radios, a buddy system, emergency evacuation plan and security planning.
We protect the privacy of our volunteers in the field and provide them with customized contact information for their use.
During our mandatory briefing, team members review our safety protocols, evacuation procedures, protocols for illness, natural disaster and terrorism.
We provide training to our teams to be cognizant of their own safety and to be aware of their surroundings.
Several policies require teams to adhere to safety issues.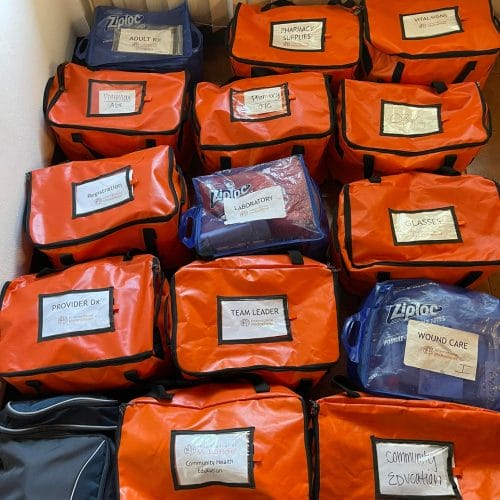 A service that we are very proud of at IMR is the preparation that each team and team member receives prior to the trip. All team members will receive a detailed briefing packet about the country you are serving. In addition to receiving background information about the country and the public health issues affecting local communities, you will also receive detailed information on fundraising, community health education topics, clinic protocols, and a comprehensive departure packet. All of these materials are critical to the preparation for your trip. Finally, a guide to the infectious diseases of the country is distributed to medical providers prior to departure.
Donations to Our Himalayan Project Count!
Although each of our teams only have the opportunity to be a part of the IMR project in the Himalayans for a short time, IMR's work in the Himalayans is long-term and sustainable.  Your dollars are a direct investment into saving and changing lives.  Your program fee is allocated to the overall mission while 15 percent goes directly into your personal logistics.
IMR supports the villages year-round.  Our goal is to never uncover a need that we cannot take care of.  We support the communities, the health clinics, the team year-round, and the patients when in need.  IMR has provided five helicopter evacuations of patients in critical need from the circuit into Kathmandu.  Whether it's saving the eye of a 10-year-old boy in need of a very specialized optic surgery or providing knee and leg surgery for a young lady, IMR answers the call. Read their stories on our blog.
Insurance and Fees - $900
Medical Equipment & Supplies - $2,100
Your generous donation helps to save and change lives every day.
Your charitable investment will go toward ongoing global relief to care for the underserved and vulnerable people of this community. As a member of this medical mission team, you will elevate the long-term impact of sustainable, capacity-building efforts that improve the health, wellness, and quality of life of those most in need. A small portion of your donation includes:
Clinic supplies and medications for patients
Clinic participation
Transportation, accommodations, and meals as outlined in the itinerary
To save $200, a 50% donation payment must be received 14 weeks before the mission's scheduled start date. Full donation payments must be received 4 weeks before the mission's scheduled start date.
Early Bird Savings Opportunity
To be eligible, upload all your required documents and forms, and make a minimum of 50% of your donation payment by 14 weeks prior to your mission's scheduled start date.
Volunteer with Airfare
You may choose to book a flight with us for an additional fee. Details on the available flight routing and US departure city will be announced on the Early Bird Date. Airport transportation to and from the team's accommodations are also included with this option. Depending on your departure city, you may still need to purchase another flight in addition to this one. After this flight has been booked, you may contact our travel agent, Worldwide Navigators, for assistance booking any necessary additional flights.
Benefits of Flying at a Subsidized Rate
Volunteer without Airfare
Many team members choose to book their flight(s) to and from the mission location independent of IMR. This is a great option if would like to extend your stay in the area to tour and explore, or if the routing from you home airport is more feasible for you. If you choose to fly independently, please note that your transportation in between the airport and the team's accommodations will not be provided. This will need to be arranged separately. Our partner for travel, Worldwide Navigators, would be happy to assist you in coordinating flights and/or transportation. You can contact them at travel@worldwidenavigators.com.
Benefits of Flying Independently
IMR provides a fundraising packet to all registered trip applicants that is full of ideas on how you can raise support for your trip or for supplies to be utilized on this specific mission. When soliciting donations for any of our trips, success is completed through telling your personal story. Why do you want to go? Who will you help? Why their donation can help you achieve the ultimate goal. Tell your story to anyone and everyone. Refer your potential or active donors to our website or Facebook page and to your personal fundraising page. You may share your personal fundraising URL on Facebook and other social media sites.
Join Us in Making a Difference.
Bring much-needed acute medical and dental care to a beautiful, culture-rich destination. You can join an IMR medical mission team today!