Medical Mission Trips to South Africa
Thank you for your interest in IMR's medical mission trips to South Africa! This is a very unique opportunity to work with populations that have little to no access to healthcare and make a huge impact on their lives.
The health and well-being of most South Africans remains burdened under infectious and non-communicable diseases, persisting social disparities, and inadequate human resources to provide care for the growing population. This growing population is extra vulnerable due to an increase in refugees and economic migrants. There is a need to strengthen the health care system and address several social determinants of health that are specifically impacting the population of South Africa. 
Extreme poverty affects a large proportion of the population, which impacts the overall health due to the lack of access to the basic requirements of life including clean water, adequate nutrition, sanitation, access to vaccinations, health education, etc. International Medical Relief teams are able to provide services and supplies, and educate communities to improve overall health outcomes.
International Medical Relief began sending medical mission trips to South Africa back in 2002. Between 2016 and 2019 sent five medical mission trips, working with a total of 98 volunteers and staff that served over 1,850 patients. IMR plans to continue our preventative efforts by providing medical relief and to continue the efforts to provide sustainable health services to the community. IMR will continue to provide community health training, medical treatments, medical supplies and equipment, and clinic operations. IMR strives to provide life-changing medical care to people who do not have reliable access to treatment and help increase the community's education and knowledge on their own health to improve the overall health of the most vulnerable and underserved communities in South Africa. 
With diligent planning and preparation, IMR is dedicated to ensuring that specific goals are met on our missions, each in correlation to the United Nations Sustainable Development Goals 3 and 17.
IMR works to elevate vulnerable populations through shoulder-to-shoulder care with our local partners, creating workforce density, and a cadre of future healthcare and public health leaders in association to UNSDG 3: Good Health & Wellbeing. 
In correlation with UNSDG 17: Partnerships for the Goals, our organization works in collaboration and at the request of local hosts where we are under their direct influence and affluence. IMR never goes into a country without a formal invitation where there is a great community need for medical or dental care, and health education.
If adventure is what you are looking for this is a trip not to be missed! Exciting times await on this once-in-a-lifetime experience. This trip includes not one but TWO safaris! There are so many special animals to see, including white lions, hippos, lions, elephants, ostriches, giraffes, zebras and many, many more!
Enjoy food at a traditional South African Braai where selected barbecue meats and chakalaka sauces tempt any palate. Walk along the famous boardwalk where the Durban beaches come alive with world-class surfers taking on the giant waves or take a dive or watch the sunrise on this beautiful promenade. You will enjoy local Cuban eateries, curry houses, and oceanside dining where the flavor of Durban comes in full swing! The team will also visit a local Zulu tribe where homemade handicrafts, dancing and traditional Zulu celebrations will take place with your participation.
The South African people are so very warm and friendly and so appreciative of us for traveling the great distance to their lands. They recognize the great effort that we make and are extremely grateful for your help.
Wake up in the stunning Valley of a Thousand Hills at your 4-star hotel nestled in the beautiful Hillcrest region right outside of Durban. This area is renowned for its acclaimed restaurants, cafe bars, shopping centers, and golf courses. After clinic, rest in one of the lounge areas or at the hotel swimming pool. The hotel includes a refreshment station in your room. Comfortable rooms with private bathrooms offer private space for personal time after hours to rejuvenate. Rooms for families and couples are also available, and we will match your rooming requests if you are traveling with friends. The team will eat breakfast and some dinners in the hotel restaurant while lunch will be served at the clinic sites. Enjoy this beautiful accommodation on this special IMR Trip.
The team will have the opportunity to visit two very special safari game reserves in this region! Previous volunteers have spotted rhinos, giraffes, monkeys, ostriches, gnu (wildebeests), hippos, and African buffalos (which look similar to Asian water buffalos, but are not directly related)! One of the reserves is home to the famous white lions where you can get within feet of these beautiful wild animals.
The team will also be able to visit the very famous Phezulu Zulu village where the world famous Gasa clan has, over the last 30 years, allowed visitors the opportunity to savor the taste and feel the rhythm of Africa. Visitors are taken into traditional beehive shaped thatched huts where the various artifacts, beliefs, and rituals are explained, giving foreigners an insight into the fascinating Zulu culture.
The team will experience the humble site of Nelson Mandela's capture, where the internationally recognizable sculpture stands. As one of the historically important moments in the struggle against Apartheid, a marking of the site was needed which has now been realized and erected.
The team will get a true taste of South Africa with a traditional Braai, the typical South African barbecue complete with a wide selection of meats and the famous Chakalaka!
Durban itself is a world renowned beach town and home to some of the biggest waves and surfing competitions in the world. Take a stroll along the boardwalk for a chance to witness local surfers taking their chance on the big waves.
All food is typically provided during your stay. Please refer to your unique itinerary on our website to review which meals are provided each day. We may hire local people to cook for the team during our visit, or we may eat at restaurants or hotels. Lunch in clinic may include sandwiches made by the team or a feast prepared in your honor by community leaders. We recommend bringing snacks to eat during the day or evening or to supplement your lunch. High protein/high fat/high energy snacks are best. IMR also provides all of the drinking water for the team. Hydration and nutrition are extremely important for the health of the team. You are the best judge of your own health so please pack appropriate snacks and stay well hydrated on the trip.
You're journeying halfway across the globe. Have you considered extending your stay to visit some of Cape Town, South Africa's top spots? Join International Medical Relief on an exclusive trip extension provided by our partner, Worldwide Navigators!
Visit Boulders Beach Park, home to thousands of African penguins
Take a guided tour of Groot Constantia, the country's oldest wine estate
Discover the city's most historic sites and most vibrant handicraft markets
Itinerary is subject to change without notice.
Arrivals
You and the team will fly into the Durban International Airport. Upon arrival, your team will transfer to the Valley Lodge, your resort for the duration of your stay. There, you can check into your rooms and enjoy a welcome dinner at the hotel.
Day 2
Team Orientation & Evening Safari
After breakfast, you will attend the team orientation to prepare you for the upcoming week of clinic. Your team leader will assign roles for clinic, address IMR's clinic protocols, and discuss the communities you will be serving in South Africa.
After orientation, you and the team will travel to a nearby game park for a safari at dusk!
Days 3-7
Clinic
Your team will be working at several clinic sites, varying from refugee communities to tribal communities, rural areas, and slums, each with little to no access to health care. You may get to participate in home visits to serve elderly individuals.
After a hard days' work, you and the team will go back to your hotel for a debrief and depart for a variety of cultural tours.
While in clinic you will see the common respiratory infections, wounds, diabetes and hypertension, you will also see lots of impact from HIV, which continues to be devastating. The rampage has created lots of orphans and single parents.
The South African communities you will serve will be very welcoming and appreciative of the care they are receiving. Your team will have the opportunity to provide health education in regards to diabetes, hypertension, respiratory illness, and safe sex practices.
Day 8
Safari
Wake up early and get ready to see some animals! Keep your eye out for Africa's "big five" including the African lion, Cape buffalo, African leopard, African elephant, and rhinoceros! If you're lucky you may even see an albino lion!
Day 9
Departures
Enjoy one last breakfast in South Africa! Depending on the time your flight leaves, you can explore more of the city before you head back to the airport for your international flight home.
Crisis Management & Emergency Response
We take security very seriously at IMR. It is our job to ensure that security precautions are in place, but please keep in mind that we cannot guarantee your safety on the trip.
We continuously review all current activities occurring on the ground, and we work with the State Department and the U.S. Embassy to know the ground situation to the best of our ability.
A security training conference call is available to our volunteers where we detail our security procedures that are in place for the trip.
We take many security precautions such as radios, a buddy system, emergency evacuation plan and security planning.
We protect the privacy of our volunteers in the field and provide them with customized contact information for their use.
During our mandatory briefing, team members review our safety protocols, evacuation procedures, protocols for illness, natural disaster and terrorism.
We provide training to our teams to be cognizant of their own safety and to be aware of their surroundings.
Several policies require teams to adhere to safety issues.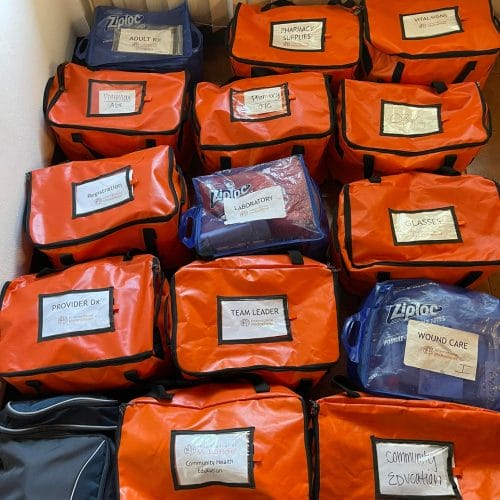 A service that we are very proud of at IMR is the preparation that each team and team member receives prior to the trip. All team members will receive a detailed briefing packet about the country you are serving. In addition to receiving background information about the country and the public health issues affecting local communities, you will also receive detailed information on fundraising, community health education topics, clinic protocols, and a comprehensive departure packet. All of these materials are critical to the preparation for your trip. Finally, a guide to the infectious diseases of the country is distributed to medical providers prior to departure.
Donations to Our Himalayan Project Count!
Although each of our teams only have the opportunity to be a part of the IMR project in the Himalayans for a short time, IMR's work in the Himalayans is long-term and sustainable.  Your dollars are a direct investment into saving and changing lives.  Your program fee is allocated to the overall mission while 15 percent goes directly into your personal logistics.
IMR supports the villages year-round.  Our goal is to never uncover a need that we cannot take care of.  We support the communities, the health clinics, the team year-round, and the patients when in need.  IMR has provided five helicopter evacuations of patients in critical need from the circuit into Kathmandu.  Whether it's saving the eye of a 10-year-old boy in need of a very specialized optic surgery or providing knee and leg surgery for a young lady, IMR answers the call. Read their stories on our blog.
Insurance and Fees - $900
Medical Equipment & Supplies - $2,100
Your generous donation helps to save and change lives every day.
Your charitable investment will go toward ongoing global relief to care for the underserved and vulnerable people of this community. As a member of this medical mission team, you will elevate the long-term impact of sustainable, capacity-building efforts that improve the health, wellness, and quality of life of those most in need. A small portion of your donation includes:
Clinic supplies and medications for patients
Clinic participation
Transportation, accommodations, and meals as outlined in the itinerary
To save $200, a 50% donation payment must be received 14 weeks before the mission's scheduled start date. Full donation payments must be received 4 weeks before the mission's scheduled start date.
Early Bird Savings Opportunity
To be eligible, upload all your required documents and forms, and make a minimum of 50% of your donation payment by 14 weeks prior to your mission's scheduled start date.
Volunteer with Airfare
You may choose to book a flight with us for an additional fee. Details on the available flight routing and US departure city will be announced on the Early Bird Date. Airport transportation to and from the team's accommodations are also included with this option. Depending on your departure city, you may still need to purchase another flight in addition to this one. After this flight has been booked, you may contact our travel agent, Worldwide Navigators, for assistance booking any necessary additional flights.
Benefits of Flying at a Subsidized Rate
Volunteer without Airfare
Many team members choose to book their flight(s) to and from the mission location independent of IMR. This is a great option if would like to extend your stay in the area to tour and explore, or if the routing from you home airport is more feasible for you. If you choose to fly independently, please note that your transportation in between the airport and the team's accommodations will not be provided. This will need to be arranged separately. Our partner for travel, Worldwide Navigators, would be happy to assist you in coordinating flights and/or transportation. You can contact them at travel@worldwidenavigators.com.
Benefits of Flying Independently
IMR provides a fundraising packet to all registered trip applicants that is full of ideas on how you can raise support for your trip or for supplies to be utilized on this specific mission. When soliciting donations for any of our trips, success is completed through telling your personal story. Why do you want to go? Who will you help? Why their donation can help you achieve the ultimate goal. Tell your story to anyone and everyone. Refer your potential or active donors to our website or Facebook page and to your personal fundraising page. You may share your personal fundraising URL on Facebook and other social media sites.
Join Us in Making a Difference.
Bring much-needed acute medical and dental care to a beautiful, culture-rich destination. You can join an IMR medical mission team today!