Medical Mission Trips to Senegal
Thank you for your interest in IMR's medical mission trips to Senegal! This is a very unique opportunity to work with populations that have little to no access to healthcare and make a huge impact on their lives.
You will travel to one of the most remote and impoverished villages in Senegal and will provide residents with much-needed health care, dental care, education, and medications. You can expect to treat medical conditions related to malnutrition, poor living conditions, and dirty drinking water. In the rural and isolated villages of Senegal, it has become increasingly difficult for residents to find reliable medical services.
The people of these villages are high-spirited, hard-working, and friendly, but they all struggle to live healthy lives and to protect the longevity of their children. More than 20% of children in the country are malnourished, and one in 11 children will die before the age of five. The focus of our clinic work will be the Talibe children who are often abused by the country's education system.
At clinic, you will treat children who have been severely beaten, have been forced to sleep on concrete floors, and have been forced to beg for the money they need to remain in school. You will also help patients with zika, malaria, schistosomiasis, scabies, lymphatic filariasis, sexually transmitted diseases, and bacterial and protozoal diarrhea.
During IMR's trip to Senegal in 2018, our teams treated more than 700 children and 1,500 adult patients, so we expect that demand for health and dental care during the 2020 trip will be high. Because of this and other concerning health issues, International Medical Relief has organized volunteer trips to Senegal for over 15 years. Our goal is to provide support to increase access to health care in Senegal. Please join us as we return to provide life-changing healthcare and medical services to the Talibe children and the remote villages of Senegal.
International Medical Relief first began hosting medical mission trips to Senegal in 2002, and we have continued to work here for over 15 years in Senegal's remote villages. Between 2011 and 2019, IMR had a total of 177 volunteers and staff that served over 11,000 patients. There continues to be several health disparities that exist between urban and rural communities in Senegal and these remote villages lack access to health delivery services, which is why these outreach programs are critical. IMR always seeks to create a long-term sustainable plan for the success of the village and the different communities we serve. Since 2002, IMR has expanded across the entire country and supported several different causes, including the Talibe Children. IMR continues to provide community health training, medical treatments, medical supplies and equipment, and clinic operations.
With diligent planning and preparation, IMR is dedicated to ensuring that specific goals are met on our missions, each in correlation to the United Nations Sustainable Development Goals 3, 6, and 17.
IMR works to elevate vulnerable populations through shoulder-to-shoulder care with our local partners, creating workforce density, and a cadre of future healthcare and public health leaders in association to UNSDG 3: Good Health & Well-being.
Our medical mission teams also work toward UNSDG 6: Clean Water & Sanitation by supporting and strengthening the participation of local communities in improving their water quality, and installing water filtration systems that supply communities with clean drinking water and providing education on hydration and hygiene.
In correlation with UNSDG 17: Partnerships for the Goals, our organization works in collaboration and at the request of local hosts where we are under their direct influence and affluence. IMR never goes into a country without a formal invitation where there is a great community need for medical or dental care, and health education.
On this special trip, IMR will focus our efforts on the Talibé children, school children in religious schools who require care including vaccinations (which IMR provides), wound care, general medical care, and dental care. These children are not seen by doctors or dentists on a regular basis and live primarily on the street, earning their school fees on a daily basis.
We will also treat many villagers on this trip. The patients you will see will have conditions ranging from rashes to joint pain, lymphatic filariasis to leptospirosis, schistosomiasis to GERD. Burns are common from the open cooking fires and serious wounds are normal occurrences in clinic each day. Working in the villages is very special and our patients will celebrate your visit. Are you a Dentist? We need you HERE! This is a place of suffering, where chewing sticks have done their damage and created teeth that are barely an exterior shell, with roots that scream with every bite a patient takes.
We see some of our sickest patients in Senegal. On our 2014 trip to Senegal, we treated many patients with acute malaria in addition to those suffering from tinea, scabies, ear infections, urinary tract infections, respiratory infections, and sexually transmitted diseases. Your patients will be in the greatest need for medical and dental care. In 2018 we cared for more than 700 Talibe children and more than 1500 total patients. Health education will continue to make a difference to the health of the villages and the Talibé children.
Please join us for a very special opportunity to care for the most neglected of patients on this rewarding trip. You will have the opportunity to partner with many local physicians and an outstanding team of translators that have worked side-by-side with IMR for many years.
This trip is set apart by the variety of your experiences in Senegal. You will spend your nights in small hotels, with beautiful courtyards and excellent food. Your transportation will be by bus and there will be hotels each night of your stay.
You will join your team members on a one day safari – get ready to have some fun! Zebras, rhinos, and wildebeest, giraffes, and more are all possible sightings along with monkeys and many kinds of antelopes. This will certainly be a highlight of the trip!
The real highlight, though, are the local physicians who work with our IMR team year after year after year. Working with these fine young doctors is the heart of sustainability – for IMR and for Senegal. We'll also be vaccinating our street children as we have for the past 10 years. Joining us in the field in Senegal makes a difference. Be The Good!
All food is typically provided during your stay. Please refer to your unique itinerary on our website to review which meals are provided each day. We may hire local people to cook for the team during our visit, or we may eat at restaurants or hotels. Lunch in clinic may include sandwiches made by the team or a feast prepared in your honor by community leaders. We recommend bringing snacks to eat during the day or evening or to supplement your lunch. High protein/high fat/high energy snacks are best. IMR also provides all of the drinking water for the team. Hydration and nutrition are extremely important for the health of the team. You are the best judge of your own health so please pack appropriate snacks and stay well hydrated on the trip.
You're journeying halfway across the globe, have you considered extending your stay to visit some of Senegal's top spots? Join International Medical Relief on an exclusive trip extension provided by our partner, Worldwide Navigators!
Explore the narrow streets Île de Gorée lined with pastel, French colonial buildings. Discover the House of Slaves — a museum and memorial to the Atlantic slave trade. Visit Lake Retba, or Lac Rose, a lake that lies north of the Cap Vert peninsula northeast of Dakar.
Itinerary is subject to change without notice.
Day 1
Today, your team will head out from home and begin your journey to Senegal.
Day 2
You and the team will fly into Thies, Senegal (DSS).
Day 3
Throughout your week you will see and care for many Talibé children (Talibé means "student" but they are street children living in difficult conditions) on this amazing trip along in addition to families, the elderly, and entire villages! The street children we will care for receive virtually
no health care and it is our honor to provide care for them in Senegal.
Days 4-8
Clinic will be held in a variety of locations, from small villages to medium sized towns in remote areas of central Senegal. Each day will be different, but all filled with laughing children and people of all ages. Healthcare outside of the cities is not easily accessible in Senegal. The entire community often comes for medical and dental care, health education to make their families stronger, and for the sheer joy of visiting with neighbors, friends, and relatives. You will be part of it all – and along the way we'll visit mosques, markets, and much more to gain a deeper understanding of Senegal's culture.
Day 9
Get ready to see some animals! And sadly, today is your departure day from this beautiful country.
Crisis Management & Emergency Response
We take security very seriously at IMR. It is our job to ensure that security precautions are in place, but please keep in mind that we cannot guarantee your safety on the trip.
We continuously review all current activities occurring on the ground, and we work with the State Department and the U.S. Embassy to know the ground situation to the best of our ability.
A security training conference call is available to our volunteers where we detail our security procedures that are in place for the trip.
We take many security precautions such as radios, a buddy system, emergency evacuation plan and security planning.
We protect the privacy of our volunteers in the field and provide them with customized contact information for their use.
During our mandatory briefing, team members review our safety protocols, evacuation procedures, protocols for illness, natural disaster and terrorism.
We provide training to our teams to be cognizant of their own safety and to be aware of their surroundings.
Several policies require teams to adhere to safety issues.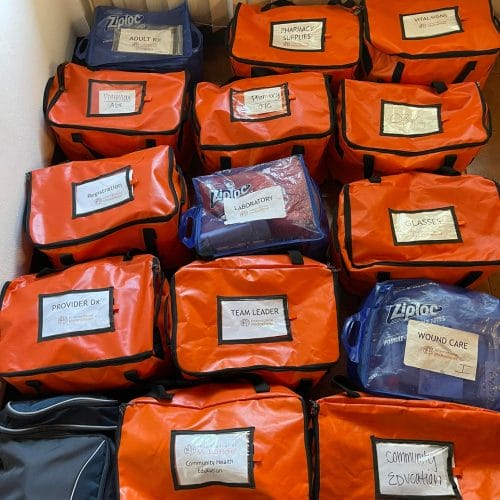 A service that we are very proud of at IMR is the preparation that each team and team member receives prior to the trip. All team members will receive a detailed briefing packet about the country you are serving.
In addition to receiving background information about the country and the public health issues affecting local communities, you will also receive detailed information on fundraising, community health education topics,
clinic protocols, and a comprehensive departure packet. All of these materials are critical to the preparation for your trip. Finally, a guide to the infectious diseases of the country is distributed to medical providers prior to departure.
Your generous donation helps to save and change lives everyday.
Your charitable investment will go toward ongoing global relief to care for the underserved and vulnerable people of this community. As a member of this medical mission team, you will elevate the long-term impact of sustainable, capacity-building efforts that improve the health, wellness, and quality of life of those most in need. A small portion of your donation includes:
Clinic supplies and medications for patients
Clinic participation
Transportation, accommodations, and meals as outlined in the itinerary
To save $200, a 50% donation payment must be received 14 weeks before the mission's scheduled start date. Full donation payments must be received 4 weeks before the mission's scheduled start date.
Early Bird Savings Opportunity
To be eligible, upload all your required documents and forms, and make a minimum of 50% of your donation payment by 14 weeks prior to your mission's scheduled start date.
Volunteer with Airfare
You may choose to book a flight with us for an additional fee. Details on the available flight routing and US departure city will be announced on the Early Bird Date. Airport transportation to and from the team's accommodations are also included with this option. Depending on your departure city, you may still need to purchase another flight in addition to this one. After this flight has been booked, you may contact our travel agent, Worldwide Navigators, for assistance booking any necessary additional flights.
Benefits of Flying at a Subsidized Rate
Volunteer without Airfare
Many team members choose to book their flight(s) to and from the mission location independent of IMR. This is a great option if would like to extend your stay in the area to tour and explore, or if the routing from you home airport is more feasible for you. If you choose to fly independently, please note that your transportation in between the airport and the team's accommodations will not be provided. This will need to be arranged separately. Our partner for travel, Worldwide Navigators, would be happy to assist you in coordinating flights and/or transportation. You can contact them at travel@worldwidenavigators.com.
Benefits of Flying Independently
IMR provides a fundraising packet to all registered trip applicants that is full of ideas on how you can raise support for your trip or for supplies to be utilized on this specific mission. When soliciting donations for any of our trips, success is completed through telling your personal story. Why do you want to go? Who will you help? Why their donation can help you achieve the ultimate goal. Tell your story to anyone and everyone. Refer your potential or active donors to our website or Facebook page and to your personal fundraising page. You may share your personal fundraising URL on Facebook and other social media sites.
Join Us in Making a Difference.
Bring much-needed acute medical and dental care to a beautiful, culture-rich destination. You can join an IMR medical mission team today!