Medical Mission Trips to Rwanda
Thank you for your interest in IMR's medical mission trips to Rwanda! This is a very unique opportunity to work with populations that have little to no access to healthcare and make a huge impact on their lives.
Rwanda, in east-central Africa, is surrounded by the Democratic Republic of the Congo, Uganda, Tanzania, and Burundi. Periods of violence in the 1990s lead Rwanda to experience significant societal upheaval. The 1994 Rwandan genocide took an enormous toll on the population, where at least 800,000 Rwandans were massacred in three brutal months. The physical and structural violence of the Rwandan genocide directly affected the spread of communicable disease. There was also an increase in HIV transmissions due to sexual violence. These periods of violence caused thousands to seek refuge into camps with limited to no access to clean water, food, and proper sanitation. This increased the rise of infectious diseases. Increased incidences of both malaria and tuberculosis have lasted far beyond the formal end of the genocide. However, strong public sector leadership, investments in health information systems, equity-driven policies, and the use of foreign aid to invest in local capacity has helped Rwanda achieve greater health outcomes for the total population.
Rwanda's principal health problems are infectious hepatitis, dysentery, malaria and tuberculosis. International Medical Relief provides Rwanda with greatly needed health education and acute medical and dental care. In the clinic, you will find that your efforts make a tangible difference as you treat many patients with infectious disease, large wounds, and a great deal of mosquito and water/fecal borne illnesses.
International Medical Relief began sending medical mission trips to Rwanda in 2016. Since then, we have served more than 4,600 patients through 200 volunteers and staff members. Each time we travel to Rwanda, the team brings Malaria and HIV testing kits. Our main mission is to provide sustainable healthcare for any community and population our team serves. That is why our teams always hold educational community health classes to empower the local community to take care of their own health and the health of those around them. IMR conducts community health classes with more than 20 topics including hygiene, sanitation, fecal and waterborne illnesses, nutrition, basic first aid, mental health, family planning, and others.
With diligent planning and preparation, IMR is dedicated to ensuring that specific goals are met on our missions, each in correlation to the United Nations Sustainable Development Goals 3 and 17.
IMR works to elevate vulnerable populations through shoulder-to-shoulder care with our local partners, creating workforce density, and a cadre of future healthcare and public health leaders in association to UNSDG 3: Good Health & Wellbeing.
In correlation with UNSDG 17: Partnerships for the Goals, our organization works in collaboration and at the request of local hosts where we are under their direct influence and affluence. IMR never goes into a country without a formal invitation where there is a great community need for medical or dental care, and health education.
Rwanda's principal health problems include dysentery, malaria, and acute infections left untreated. Chronic communicable diseases needing education include infectious hepatitis, tuberculosis. and HIV as well as hypertension and diabetes. You will find that your efforts make a tangible difference as you treat many patients with infectious disease, large wounds, and a great deal of mosquito and water/fecal-borne illnesses.
Clinic is in a great location on this trip. We partner with a fantastic school to provide us with the room we need to care for the many hundreds of patients we will see. You will also stay at the school which means more patient time and less travel time! Here, you will have the opportunity to take a short hike through the village to the communal well, where you will see the true need for public health and understand a lot about how your patients live. A visit to the weekly goat market will also tell you a lot about village life. Goats provide your patients with their milk, cheese, and meat and are an important part of the daily rhythm in this village.
The people of Murindi walk or use bicycles for transportation and generally stay within their village area. Common illnesses include skin infections including scabies, and dermatitis, tinea corpus, ringworm, and other fungal infections. Respiratory issues are also common. You may also attend to bicycle injuries and other advanced skin and soft tissue infections. Educational dental care and primary care services are desperately needed. This underserved population lacks meeting basic health needs. Children and adults carry drinking water several times a day from a common community spigot where water is obtained down a steep muddy hill in 40-pound containers. Their average meal consists of cooked rice, local porridge or bananas gathered from their local trees. Due to the lack of a variety of balanced meals, there is a huge malnutrition problem. Stunting in Rwanda is caused by chronic malnutrition, and in Rwanda, 47% of rural children are stunted, along with 27% of urban children. We bring vitamins, deworming medicines and most importantly, sustainable education on proper hygiene and a myriad of other topics. Approximately 25-35%of the population complained of severe oral pain due to abscesses and dental carries.
IMR is always excited to return to this area of Rwanda where the need is great and the children wave with both hands to welcome you into their world!
Included in our Signature Trip, our team will have the opportunity to stay at the infamous Hotel des Mille Collines, also known as Hotel Rwanda. Since 1973, Hotel des Mille Collines has provided luxurious accommodation to travelers in the "land of a thousand hills" and in 1994, saved over 2,000 lives during the Genocide against the Tutsi. You and your team members will be provided with transportation to and from the hotel each day to bring you to meet your fellow team members for clinic (this transfer typically takes around 45 minutes). Each night, you will be able to eat traditional meals prepared by our hosts at Hope Haven, or take transportation back to your hotel for a decadent meal at the hotel. You won't want to miss out on this special opportunity to stay at Hotel des Mille Collines.
This trip includes a historical tour of Kigali and a safari at Akagera National Park! Your historical tour includes the museum and memorial for the Rwandan genocide, where you will be able to pay respects to those lost. The museum sets out the history leading up to the genocide and brings the somber realities of the atrocities to life. In understanding the roots of this history, you will appreciate just how far the country has moved on together in the last two decades. It also plays a vital role in educating Rwanda's new and future generations about the genocide.
You will also take a hike to the village well early one morning before clinic – and perhaps help the children carry the jerry cans of water up the hill? It will be a wonderful learning opportunity for you about the struggles of having drinking water at your home every day. Don't worry, your IMR team will be teaching everyone about CLEAN drinking water.
Another highlight will be the visit to the goat market. Don't forget your camera on this early morning adventure before clinic! We know you were just thinking you needed a goat to keep your pup company. Now's your chance! Bring your wallet!
While on safari, you will have the opportunity to get up close and personal with elephants, African buffalos, zebras, antelopes, impala, primates, and some of the 500 species of birds in the park! You may have the breathtaking experience of seeing leopards and lions there! This will be an all day journey. Hat, sunscreen, camera, closed toed shoes, and EYES WIDE OPEN are the order of the day!!
All food is typically provided during your stay. Please refer to your unique itinerary on our website to review which meals are provided each day. We may hire local people to cook for the team during our visit, or we may eat at restaurants or hotels. Lunch in clinic may include sandwiches made by the team or a feast prepared in your honor by community leaders. We recommend bringing snacks to eat during the day or evening or to supplement your lunch. High protein/high fat/high energy snacks are best. IMR also provides all of the drinking water for the team. Hydration and nutrition are extremely important for the health of the team. You are the best judge of your own health so please pack appropriate snacks and stay well hydrated on the trip.
You're venturing around the globe, have you considered extending your stay a few additional days to visit nearby Uganda? Join IMR on an exclusive three-day extension!
Enjoy Uganda from above on your short flight from Entebbe to the outskirts of Bwindi Impenetrable National Park. From here you'll make you way to Buhoma, with a stop visiting a local forest tribe. Day two will be the highlight of your trip— or maybe year, as you hike the mountain rainforest and spend some time with the famed mountain gorillas. There's no guarantee how long or short your trek will be, as it depends on the gorillas and weather, but you can expect a reward more precious than gold as you observe these magnificent creatures as they relax, play and feed in the heart of the jungle. Take a look at the trip itinerary.
Itinerary is subject to change without notice.
Day 1
You and the team will fly into the Kigali International Airport and transfer to your accommodation in Kigali.
Day 2
After breakfast, you will attend the team orientation to prepare you for the upcoming week of clinic. Your team leader will assign roles for clinic, address IMR's clinic protocols, and discuss the communities you will be serving in Rwanda. You will also get an overview of the health care system in Rwanda by one of our hosts.
Days 3-7
Wake up each day and have breakfast at your hotel. Most of the clinics will take place at the orphanage as IMR provides transportation to the communities of the people that want to be seen.
Clinics begin in the morning and run into the evenings. Your days will be long and hard, but also incredibly rewarding.
At our clinics in Rwanda, you can expect to see many people greatly in need of the community health education and acute medical and dental care provided by IMR. In clinic, you will find that your efforts make a tangible difference as you treat many patients with infectious disease, large wounds, and a great deal of mosquito and water/fecal-borne illnesses.
Day 8
Safari Day! After working hard in clinic for the past five days, depart for a day safari at Akagera National Park located in Eastern Rwanda. Don't forget to bring your camera as you will be able to see the giraffes, impalas, topis, zebras, bushbucks, African swallows, eland, vervet monkeys, warthogs, baboons, mongoose, hippos, crocodiles, as well as elephants.
Day 9
Enjoy breakfast at your hotel and then bid farewell to beautiful Rwanda as you head to the airport for your international flight home. If you are not a part of the group flight, you are free to schedule your flight for any time today!
Crisis Management & Emergency Response
We take security very seriously at IMR. It is our job to ensure that security precautions are in place, but please keep in mind that we cannot guarantee your safety on the trip.
We continuously review all current activities occurring on the ground, and we work with the State Department and the U.S. Embassy to know the ground situation to the best of our ability.
A security training conference call is available to our volunteers where we detail our security procedures that are in place for the trip.
We take many security precautions such as radios, a buddy system, emergency evacuation plan and security planning.
We protect the privacy of our volunteers in the field and provide them with customized contact information for their use.
During our mandatory briefing, team members review our safety protocols, evacuation procedures, protocols for illness, natural disaster and terrorism.
We provide training to our teams to be cognizant of their own safety and to be aware of their surroundings.
Several policies require teams to adhere to safety issues.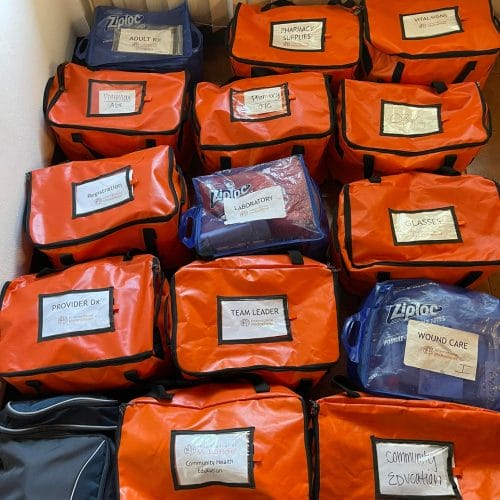 A service that we are very proud of at IMR is the preparation that each team and team member receives prior to the trip. All team members will receive a detailed briefing packet about the country you are serving. In addition to receiving background information about the country and the public health issues affecting local communities, you will also receive detailed information on fundraising, community health education topics, clinic protocols, and a comprehensive departure packet. All of these materials are critical to the preparation for your trip. Finally, a guide to the infectious diseases of the country is distributed to medical providers prior to departure.
Your generous donation helps to save and change lives everyday.
Your charitable investment will go toward ongoing global relief to care for the underserved and vulnerable people of this community. As a member of this medical mission team, you will elevate the long-term impact of sustainable, capacity-building efforts that improve the health, wellness, and quality of life of those most in need. A small portion of your donation includes:
Clinic supplies and medications for patients
Clinic participation
Transportation, accommodations, and meals as outlined in the itinerary
To save $200, a 50% donation payment must be received 14 weeks before the mission's scheduled start date. Full donation payments must be received 4 weeks before the mission's scheduled start date.
Early Bird Savings Opportunity
To be eligible, upload all your required documents and forms, and make a minimum of 50% of your donation payment by 14 weeks prior to your mission's scheduled start date.
Volunteer with Airfare
You may choose to book a flight with us for an additional fee. Details on the available flight routing and US departure city will be announced on the Early Bird Date. Airport transportation to and from the team's accommodations are also included with this option. Depending on your departure city, you may still need to purchase another flight in addition to this one. After this flight has been booked, you may contact our travel agent, Worldwide Navigators, for assistance booking any necessary additional flights.
Benefits of Flying at a Subsidized Rate
Volunteer without Airfare
Many team members choose to book their flight(s) to and from the mission location independent of IMR. This is a great option if would like to extend your stay in the area to tour and explore, or if the routing from you home airport is more feasible for you. If you choose to fly independently, please note that your transportation in between the airport and the team's accommodations will not be provided. This will need to be arranged separately. Our partner for travel, Worldwide Navigators, would be happy to assist you in coordinating flights and/or transportation. You can contact them at travel@worldwidenavigators.com.
Benefits of Flying Independently
IMR provides a fundraising packet to all registered trip applicants that is full of ideas on how you can raise support for your trip or for supplies to be utilized on this specific mission. When soliciting donations for any of our trips, success is completed through telling your personal story. Why do you want to go? Who will you help? Why their donation can help you achieve the ultimate goal. Tell your story to anyone and everyone. Refer your potential or active donors to our website or Facebook page and to your personal fundraising page. You may share your personal fundraising URL on Facebook and other social media sites.
Join Us in Making a Difference.
Bring much-needed acute medical and dental care to a beautiful, culture-rich destination. You can join an IMR medical mission team today!