Medical Mission Trips to Jamaica
Thank you for your interest in IMR's medical mission trips to Jamaica! This is a very unique opportunity to work with populations that have little to no access to healthcare and make a huge impact on their lives.
Despite receiving free medical and dental care almost twice a year during medical missions, we will still see a high concentration of the Jamaican population suffering from lifestyle diseases. These are hypertension and diabetes, which is a result of patients not taking their prescribed medication or refilling the same.
When it comes to routine, the people of Jamaica wake up and head straight to sea or work, so oral health practices, proper nutrition, and hygiene fall behind. So we see evidence of decaying teeth, gingivitis, plaque, and cavities in all age groups. So on average, we would do 40 extractions and 60 cleans across the age groups that attend our clinics.
Non-communicable diseases (NCDs) and injuries are a major public health burden in Jamaica and are the leading cause of death. An estimated seven out of ten Jamaicans died from the four major NCDs: Cancer, Cardiovascular Disease, Diabetes and Chronic Lower Respiratory Disease [Ministry of Health 2018].
IMR's goal is to help Jamaica achieve global health security and improve access to health care services. Helping countries respond quickly and effectively to public health threats is critical in order to prevent the spread of diseases and to sustain the wellbeing of the community. By joining the IMR team, you will be able to collaborate with the community to improve the overall health of the people. To help provide quality medical care to all citizens, IMR sends volunteers to areas that are in the greatest need of quality health care and medical services. Our public health clinics offer assistance to children, women, families, the elderly, and other in-need populations.
You and the rest of the volunteer team will educate locals on how to stay healthy and how to care for their loved ones. Together, we will treat a wide variety of acute and chronic illnesses, including dengue fever, hepatitis, malaria, pneumonia, and digestive diseases. One of the main focuses of all missions is medical and dental. Because all community members are encouraged to attend, the demand for dental care will be high. Another main focus of this mission is women's healthcare. We will provide general women's and infant care, as well as strengthen the knowledge and skills of the local midwives.
The team will be visiting three different areas in Jamaica spanning across the landscape from fishing communities to rural areas and the inner city.
The fishing community depends heavily on the sale of their catch to sustain their families. The education of the people is relatively low and they depend heavily on donations and outreach programs such as ours to afford necessities. The other two communities in rural and inner-city areas are impoverished.  In all of these areas, the people have jobs and work hard in the city or in the fishing communities.
Although they have some access to community clinics, there is evidence of lifestyle diseases, especially in the seniors, namely hypertension, high cholesterol, and diabetes.  The working-class population tend to still fall below or just above Jamaica's minimum wage, so they don't prioritize health care as a spending option. As a result, lifestyle diseases are very evident during our visits.
Education is a key focus for the IMR teams.  Our goal is to leave these communities with sustainable knowledge to manage their healthcare encumberments. Alongside the valuable medical and dental care, other organizations and partners will be engaged providing valuable social services such as assistance in applying for birth certificates, referrals to social agencies, and blood donations. 
In correlation with UNSDG 17: Partnerships for the Goals, our organization works in collaboration and at the request of local hosts where we are under their direct influence and affluence. IMR never goes into a country without a formal invitation where there is a great community need for medical or dental care and health education.
Our partners have been vested heavily in the Jamaican communities for 25 years and provide assistance with health, education, sports, community development and environmental initiatives.
If you join the International Medical Relief team on our mission to improve the quality of life for the incredible people in Jamaica, you will find plenty of things to do outside of the clinic to enjoy the culture.  Known as the "birthplace of reggae," Jamaica offers travelers a treasure trove of natural jewels and a colorful African vibe. Golden beaches, lush green mountains, turquoise seas, coral reefs, rainforests, and rivers are just some of the island's enviable assets.
Nature lovers will find plenty of things to do in Jamaica. You can hike and bird-watch in the jungle or dive and snorkel along the fringing reefs. Jamaica is also renowned for its many historic plantations where you can sample tropical fruits and tour the grand houses. You'll also find some of the Caribbean's most luxurious all-inclusive resorts here.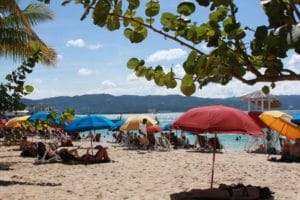 The team will stay in a beautiful, safe, clean, and friendly hotel located in this wonderful city.  You will be able to enjoy the local food, music, and an array of shops nearby. The culture of Jamaica will come alive as you explore the city after clinic and during your day off.
Upon your arrival in Jamaica, all transportation to the clinic we be arranged for you.  Professional drivers, safe vehicles, and security are some of the many reasons to join IMR on a trip. Take in the beautiful Blue Mountain foreground views as you travel through the British-colonial architecture to the clinic which may take you by the water's edge for views of the breathtaking reef-lined beaches and rainforest or right through the cosmopolitan area home to the famous Bob Marley.
Families are the most important patients you will see, and in Jamaica, you will see a lot of families.  Everyone wants you to help them keep their children healthy and their elders comfortable.  It is our patients – and there are a lot of them! – that are the highlight of this trip.
You will have a free day to explore Jamaica. Whether you are up for an adrenaline fix, archeology of historical sites like Devon House, or relaxation at the beach, this trip is yours, jam-packed with diverse tourist attractions. And, of course, there's reggae! In Kingston, Jamaica's edgy capital, you can tour reggae legend Bob Marley's former home and explore the city's museums and historic sites.  No wonder Jamaica is a favorite Caribbean getaway.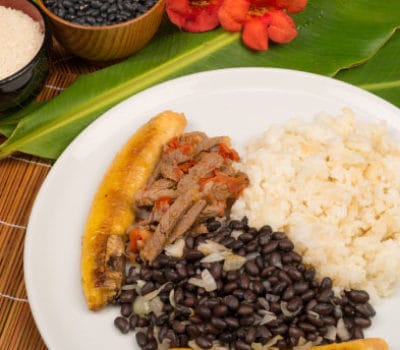 All food is typically provided during your stay. Please refer to your unique itinerary on our website to review which meals are provided each day. We may hire local people to cook for the team during our visit, or we may eat at restaurants or hotels. Lunch in clinic may include sandwiches made by the team or a feast prepared in your honor by community leaders. We recommend bringing snacks to eat during the day or evening or to supplement your lunch. High protein/high fat/high energy snacks are best. IMR also provides all of the drinking water for the team. Hydration and nutrition are extremely important for the health of the team. You are the best judge of your own health so please pack appropriate snacks and stay well hydrated on the trip.
You're journeying halfway across the globe. Have you considered extending your stay a few additional days to visit some of Central America's top spots? Join International Medical Relief on an exclusive trip extension provided by our partner, Worldwide Navigators! Contact Worldwide Navigators to book an extension or get more information.
Itinerary is subject to change without notice.
Day 1
You will fly into Kingston, Norman Manley International Airport (KIN) and travel to your accommodation independently or arrange transportation through IMR. 
Day 2
Orientation will prepare us for the upcoming week of clinic. Your team leader will share with you about the clinic, address IMR's clinic protocols and Covid-19 protocols, and discuss the communities you will be serving.
Days 3-6
You and your team will provide community healthcare in a public health setting to continue IMR's long-term, sustainable education efforts. Education is as important as medical and dental care for our patients. Each clinic includes basic health education according to the specialties and skills of the IMR volunteers, as well as the needs of the local people. When communities become empowered to take health and wellness issues into their own hands, they become self-sufficient. IMR provides learning opportunities for the local communities through classes and hands-on learning to sustain their well-being beyond our visit.
Day 7
After four full days of working in a clinic, today will be your chance to go and explore or relax.  There are many things that make this island special. You will have a free day to explore Jamaica.  Whether you are up for an adrenaline fix, archeology of historical sites like Devon House, or relaxation at the beach, this trip is yours with Jam-packed with diverse tourist attractions. Of course, there's reggae. In Kingston, Jamaica's edgy capital, you can tour reggae legend Bob Marley's former home and explore the city's museums and historic sites.  No wonder Jamaica is a favorite Caribbean getaway.
Day 8
Enjoy your final breakfast in your accommodation before heading off to explore more or return home.
Crisis Management & Emergency Response
We take security very seriously at IMR. It is our job to ensure that security precautions are in place, but please keep in mind that we cannot guarantee your safety on the trip.
We continuously review all current activities occurring on the ground, and we work with the State Department and the U.S. Embassy to know the ground situation to the best of our ability.
A security training conference call is available to our volunteers where we detail our security procedures that are in place for the trip.
We take many security precautions such as radios, a buddy system, emergency evacuation plan and security planning.
We protect the privacy of our volunteers in the field and provide them with customized contact information for their use.
During our mandatory briefing, team members review our safety protocols, evacuation procedures, protocols for illness, natural disaster and terrorism.
We provide training to our teams to be cognizant of their own safety and to be aware of their surroundings.
Several policies require teams to adhere to safety issues.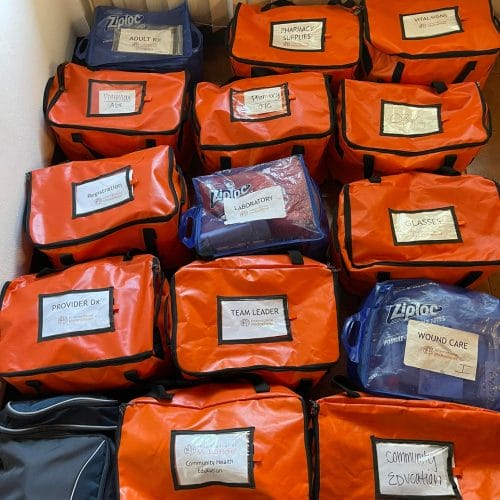 A service that we are very proud of at IMR is the preparation that each team and team member receives prior to the trip. All team members will receive a detailed briefing packet about the country you are serving.
In addition to receiving background information about the country and the public health issues affecting local communities, you will also receive detailed information on fundraising, community health education topics,
clinic protocols, and a comprehensive departure packet. All of these materials are critical to the preparation for your trip. Finally, a guide to the infectious diseases of the country is distributed to medical providers prior to departure.
Your generous donation helps to save and change lives everyday.
Your charitable investment will go toward ongoing global relief to care for the underserved and vulnerable people of this community. As a member of this medical mission team, you will elevate the long-term impact of sustainable, capacity-building efforts that improve the health, wellness, and quality of life of those most in need. A small portion of your donation includes:
Clinic supplies and medications for patients
Clinic participation
Transportation, accommodations, and meals as outlined in the itinerary
To save $200, a 50% donation payment must be received 14 weeks before the mission's scheduled start date. Full donation payments must be received 4 weeks before the mission's scheduled start date.
Early Bird Savings Opportunity
To be eligible, upload all your required documents and forms, and make a minimum of 50% of your donation payment by 14 weeks prior to your mission's scheduled start date.
Volunteer with Airfare
You may choose to book a flight with us for an additional fee. Details on the available flight routing and US departure city will be announced on the Early Bird Date. Airport transportation to and from the team's accommodations are also included with this option. Depending on your departure city, you may still need to purchase another flight in addition to this one. After this flight has been booked, you may contact our travel agent, Worldwide Navigators, for assistance booking any necessary additional flights.
Benefits of Flying at a Subsidized Rate
Volunteer without Airfare
Many team members choose to book their flight(s) to and from the mission location independent of IMR. This is a great option if would like to extend your stay in the area to tour and explore, or if the routing from you home airport is more feasible for you. If you choose to fly independently, please note that your transportation in between the airport and the team's accommodations will not be provided. This will need to be arranged separately. Our partner for travel, Worldwide Navigators, would be happy to assist you in coordinating flights and/or transportation. You can contact them at travel@worldwidenavigators.com.
Benefits of Flying Independently
IMR provides a fundraising packet to all registered trip applicants that is full of ideas on how you can raise support for your trip or for supplies to be utilized on this specific mission. When soliciting donations for any of our trips, success is completed through telling your personal story. Why do you want to go? Who will you help? Why their donation can help you achieve the ultimate goal. Tell your story to anyone and everyone. Refer your potential or active donors to our website or Facebook page and to your personal fundraising page. You may share your personal fundraising URL on Facebook and other social media sites.
Join Us in Making a Difference.
Bring much-needed acute medical and dental care to a beautiful, culture-rich destination. You can join an IMR medical mission team today!