Medical Mission Trips to India
Thank you for your interest in IMR's medical mission trips to India! This is a very unique opportunity to work with populations that have little to no access to healthcare and make a huge impact on their lives.
India is the world's second most populous country and in spite of a well trained and functional health care system, India still faces significant public health issues.  Sanitation, overcrowding, and poverty all contribute to illness, especially among the poor. In 2018, India reported about a 29.9% infant mortality rate. India also still faces several gender health disparities, where women are more vulnerable to different health risks. 
Join International Medical Relief (IMR) in providing quality medical care for the communities surrounding Mumbai. The team will care for those with the greatest need for medical attention. Our clinics are nestled among the throwback of centuries old traditions in southern India. Engage with this culture first hand as you provide greatly needed medical care to the densely inhabited communities. Those left out of the medical system will not only get medical attention, but will also be given needed education to help them survive in places where healthcare is difficult to access.
International Medical Relief began relief efforts in India in 2011 and has since served 16,000 patients with 430 IMR staff and volunteers. IMR continues to provide sustainable health care through education initiatives towards the communities we serve. Some of the educational sessions that were provided include the following: clean water, dehydration/rehydration, malnutrition, family planning, oral health, respiratory diseases, malaria prevention and hygiene/hand washing.
With diligent planning and preparation, IMR is dedicated to ensuring that specific goals are met on our missions, each in correlation to the United Nations Sustainable Development Goals 3 and 17.
IMR works to elevate vulnerable populations through shoulder-to-shoulder care with our local partners, creating workforce density, and a cadre of future healthcare and public health leaders in association to UNSDG 3: Good Health & Wellbeing. 
In correlation with UNSDG 17: Partnerships for the Goals, our organization works in collaboration and at the request of local hosts where we are under their direct influence and affluence. IMR never goes into a country without a formal invitation where there is a great community need for medical or dental care, and health education.
Close your eyes and picture looking to your left to see towering, snow-capped mountains, and then looking to your right to see lush, green foliage. If you concentrate, can you hear the infectious Hindustani music or taste freshly caught fish? As the seventh-largest and second-most populous country in the World, it is not surprising that India offers a wide variety of sightseeing, topography, and cultural experiences. Shaped by the Himalayan Mountains, Northern Plains, the Indian Desert, Peninsular Plateau, coastal plains, and many islands, India is the land of "Unity in Diversity." Among the people, diversity in race, religion, and language exists, but their vast differences in culture do not divide them. Mumbai, the capital city of the state of Maharashtra in India and the city you will stay in for this trip, is the most populated city in India so you will interact with folks from many different backgrounds. However, over half of the city practices Hinduism, so you can expect to experience several Hindu traditions, including theatre, festivals, and food.
While visiting, you can tour countless Hindu Temples such as the most famous temple in the city, Mahalakshmi! Your team will also make a point to visit the Muslim quarter to experience the blended culture and purchase fresh produce. Your time in Mumbai will be especially memorable because it will coincide with Holi, a time for Hindus to welcome the spring season and to celebrate love and the triumph of good over evil. Also referred to as the festival of colors, Holi is one of the most brilliant festivals that Hindus celebrate. From rain dances to water guns filled with liquid color to Holi-special restaurant menus, the Holi festivities are a blast! For a colorful and memorable keepsake, wear a white t-shirt during the celebration. During Holi, keep in mind that the people whom you have the opportunity to laugh and dance with may also be some of the people you help during clinic. Because many residents cannot afford the out-of-pocket expenses associated with subsidized healthcare, IMR will help to bring much-needed aid and education to the people in India who have more difficulty accessing medical treatment.
This is an area where traditional medicine dominates and we will have an opportunity to learn about the botanicals used by local healers. You will also have an opportunity to learn about the rich culture of this beautiful and unique area, where the people are passionate about their religion, crafts, and corn!
You and your team will be staying in Mumbai in comfortable, safe, and clean accommodations. Transportation to and from clinic will be provided each day. If you travel on the group flight, all of your airport transportation to and from the hotel will be pre-arranged. For those flying into Mumbai independently, you have the option to include your airport transportation for an additional charge through our partner, Worldwide Navigators.
The lasting connections that you make with the people of Mumbai within and out of clinic will undoubtedly be the highlight of your trip. By celebrating goodness at Holi with some of the same people you may treat at clinic, you will find yourself completely submerged in Indian culture. If you are lucky, some of your newly made friends will teach you a Bollywood Dance that you can, in turn, teach your friends back home.
While the most rewarding aspect of this trip will be caring for the people of Mumbai, your team will also have the opportunity to visit the famous Gateway of India, an iconic, 85-foot arch that is often referred to as the "Taj Mahal of Mumbai." This architectural wonder may very well be one of your favorite sites to see!
All food is typically provided during your stay. Please refer to your unique itinerary on our website to review which meals are provided each day. We may hire local people to cook for the team during our visit, or we may eat at restaurants or hotels. Lunch in clinic may include sandwiches made by the team or a feast prepared in your honor by community leaders. We recommend bringing snacks to eat during the day or evening or to supplement your lunch. High protein/high fat/high energy snacks are best. IMR also provides all of the drinking water for the team. Hydration and nutrition are extremely important for the health of the team. You are the best judge of your own health so please pack appropriate snacks and stay well hydrated on the trip.
Since you are already venturing across the globe, have you considered extending your stay by a few days to see some of the top tourist destinations around Delhi? IMR offers an exclusive three-day extension to its volunteers provided by our partner, Worldwide Navigators.
Worldwide Navigators offers a fantastic opportunity to continue your trip and explore off the beaten path, giving you more time to see the sights in India.
Itinerary is subject to change without notice.
Day 1
After a long journey, you and the rest of your volunteer team will land at the International Airport. For those joining the group flight, together, you will take the airport shuttle to your hotel. Upon check-in, you will meet with the rest of your team for a delicious dinner and orientation.
Day 2
You and your team will provide training for local healthcare providers to continue IMR's long-term, sustainable education efforts. Education is as important as medical and dental care for our patients. Each clinic includes basic health education according to the specialties and skills of the IMR volunteers, as well as the needs of the local people.
Days 3-6
There will be some days you will host clinic at a camp about a few hours out from your lodging. Other days, you and your team will be serving people in the city you are in. Clinic will begin early in the morning and run into the evening. When you return to your hotel each evening, you can expect to attend a team debrief followed by an excellent team dinner and much-needed downtime.
Day 7
This a cultural/free day to explore the area: if you're there for the Holi Festival you can partake in the "festival of colors" celebrated by millions of Hindus who douse themselves in brightly colored powders. If you're in the Jaipur area, you may venture to Galtaji and will come across the complex Ramgopalji temple, locally called the Monkey temple (Galwar Bagh). 
Days 8-9
On your last day in India, enjoy one final breakfast with your team before beginning your departure home.
Crisis Management & Emergency Response
We take security very seriously at IMR. It is our job to ensure that security precautions are in place, but please keep in mind that we cannot guarantee your safety on the trip.
We continuously review all current activities occurring on the ground, and we work with the State Department and the U.S. Embassy to know the ground situation to the best of our ability.
A security training conference call is available to our volunteers where we detail our security procedures that are in place for the trip.
We take many security precautions such as radios, a buddy system, emergency evacuation plan and security planning.
We protect the privacy of our volunteers in the field and provide them with customized contact information for their use.
During our mandatory briefing, team members review our safety protocols, evacuation procedures, protocols for illness, natural disaster and terrorism.
We provide training to our teams to be cognizant of their own safety and to be aware of their surroundings.
Several policies require teams to adhere to safety issues.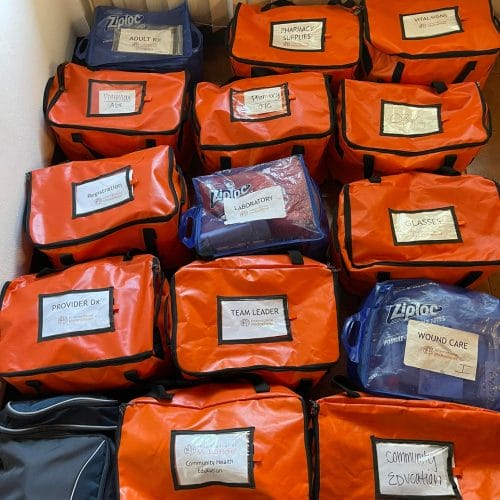 A service that we are very proud of at IMR is the preparation that each team and team member receives prior to the trip. All team members will receive a detailed briefing packet about the country you are serving. In addition to receiving background information about the country and the public health issues affecting local communities, you will also receive detailed information on fundraising, community health education topics, clinic protocols, and a comprehensive departure packet. All of these materials are critical to the preparation for your trip. Finally, a guide to the infectious diseases of the country is distributed to medical providers prior to departure.
Your generous donation helps to save and change lives everyday.
Your charitable investment will go toward ongoing global relief to care for the underserved and vulnerable people of this community. As a member of this medical mission team, you will elevate the long-term impact of sustainable, capacity-building efforts that improve the health, wellness, and quality of life of those most in need. A small portion of your donation includes:
Clinic supplies and medications for patients
Clinic participation
Transportation, accommodations, and meals as outlined in the itinerary
To save $200, a 50% donation payment must be received 14 weeks before the mission's scheduled start date. Full donation payments must be received 4 weeks before the mission's scheduled start date.
Early Bird Savings Opportunity
To be eligible, upload all your required documents and forms, and make a minimum of 50% of your donation payment by 14 weeks prior to your mission's scheduled start date.
Volunteer with Airfare
You may choose to book a flight with us for an additional fee. Details on the available flight routing and US departure city will be announced on the Early Bird Date. Airport transportation to and from the team's accommodations are also included with this option. Depending on your departure city, you may still need to purchase another flight in addition to this one. After this flight has been booked, you may contact our travel agent, Worldwide Navigators, for assistance booking any necessary additional flights.
Benefits of Flying at a Subsidized Rate
Volunteer without Airfare
Many team members choose to book their flight(s) to and from the mission location independent of IMR. This is a great option if would like to extend your stay in the area to tour and explore, or if the routing from you home airport is more feasible for you. If you choose to fly independently, please note that your transportation in between the airport and the team's accommodations will not be provided. This will need to be arranged separately. Our partner for travel, Worldwide Navigators, would be happy to assist you in coordinating flights and/or transportation. You can contact them at travel@worldwidenavigators.com.
Benefits of Flying Independently
IMR provides a fundraising packet to all registered trip applicants that is full of ideas on how you can raise support for your trip or for supplies to be utilized on this specific mission. When soliciting donations for any of our trips, success is completed through telling your personal story. Why do you want to go? Who will you help? Why their donation can help you achieve the ultimate goal. Tell your story to anyone and everyone. Refer your potential or active donors to our website or Facebook page and to your personal fundraising page. You may share your personal fundraising URL on Facebook and other social media sites.
Join Us in Making a Difference.
Bring much-needed acute medical and dental care to a beautiful, culture-rich destination. You can join an IMR medical mission team today!