Medical Mission Trips to Honduras
Thank you for your interest in IMR's medical mission trips to Honduras! This is a very unique opportunity to work with populations that have little to no access to healthcare and make a huge impact on their lives.
Honduras is a country known for its natural beauty and extreme poverty, with more than 50% of the population destitute. Major risk factors include high unemployment and inadequate public education. Many schools have up to 80 children in a classroom with one teacher. Of all the children entering 1st grade, only 30% are still in school by 6th grade and only 8% continue to the university level. For this trip, your team will travel to remote communities that do not have access to the limited, small hospitals scattered across the country. Health care is almost nonexistent in these rural areas.
The towns where we will care for patients have a high prevalence of diseases transferred by mosquitoes such as malaria, dengue, and recently chikungunya, especially during the months right after the rainy season, which is when we will be there. Due to the lack of clean water and sanitation methods, diseases such as skin rashes/ infections, ear, eyes, nose and throat infections, respiratory infections, influenza, heartworm, and diarrhea are seen daily in adults and children. Oral hygiene is nonexistent and dental care is of critical importance. These are health issues you can significantly impact through excellent patient care and health education. Please join us!
International Medical Relief first served Honduras in 2018, and went back again in 2019. IMR continues to build our relationship with the Honduras community into 2020 and beyond. Currently, IMR has held 2 clinics and had a total of 39 volunteers and staff who served over 2,000 patients. IMR continues to strive for the goal of providing sustainable health care by contributing medical services, medicine, supplies, training and education to the community.
With diligent planning and preparation, IMR is dedicated to ensuring that specific goals are met on our missions, each in correlation to the United Nations Sustainable Development Goals 3 and 17.
IMR works to elevate vulnerable populations through shoulder-to-shoulder care with our local partners, creating workforce density, and a cadre of future healthcare and public health leaders in association to UNSDG 3: Good Health & Wellbeing.
In correlation with UNSDG 17: Partnerships for the Goals, our organization works in collaboration and at the request of local hosts where we are under their direct influence and affluence. IMR never goes into a country without a formal invitation where there is a great community need for medical or dental care, and health education.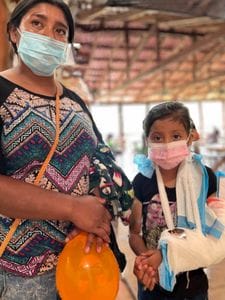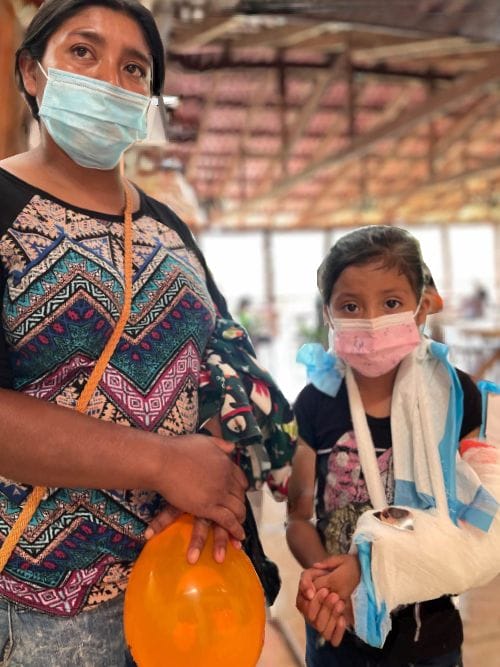 In the indigenous communities where we will work, there are no doctors or dentists, hospitals, or functional clinics. We'll work in small schools that will show you first hand the abject poverty of the area, if the malnutrition of the children isn't enough of a clue. If you want to make a difference, come on this trip.
In the small towns we will visit on the 2nd half of our trip, most of the medical care and all of the dental care requires payment for services. The small hospital in the area also has small resources, is a car ride away, and is over-run. Your IMR team is the hope for the health of the children in these towns and communities.
Radio, TV, posters, and word of mouth will all be used to tell everyone that clinic is happening – and patients will prepare for weeks for our arrival. In the indigenous communities, the pastors are the biggest influence along with those members of the communities who have horses; they will ride far and wide to spread the word. The towns have determined that the real way to spread the news is through the school children. Every school child will receive a letter to take home, outlining the day and location of our team. The churches will announce our visit and ensure that even the homebound know that we will come to them. Home visits are some of the best medicine we provide and some of the most fun for our team! Expect a crowd; there will be no shortage of patients here. Doctors, dentists, nurses, EMS, counselors, and non-medical staff are all needed; OB-GYNs, Dermatologists, Pediatricians, and Pediatric Dentists are in especially high demand.
One of the best parts of this trip are the local doctors, dentists, and nurses who will join our team and work side by side with you. On our second trip we were joined by 8 amazing young doctors and dentists, all seeking to help the people of their homeland and to expand and share their skills, knowledge, and passion for our patients.
The IMR team will be based in two distinct areas: the indigenous communities approximately 5 hours from Tegucigalpa and a small town about 3 hours from the capital, Tegucigalpa. You will fly into Tegucigalpa where you will meet your team at the airport and drive to the indigenous communities that have been waiting for more than a year to welcome you. The rainy season will have ended prior to your visit, and temperatures in the low 80s will make your working conditions perfect! Your hotel lodging will be comfortable, clean, and safe.
The highlight of this trip is certainly the indigenous communities and the townspeople, who can not wait to open their doors and hearts to your IMR team. But of course, there is more! Parque Nacional Sierra de Agalta, owned by the town itself, will be a highlight of your visit. There are 8 famous waterfalls that combine for a drop of over 150 feet! Cuevas de Talgua caves – the "cave of the glowing skulls" – is one of the most important sites for cave burials in the Mayan world. A guided tour to see the wonderful formations in this cave will leave you absolutely amazed! And have no fear, there's the shopping! Wonderful local crafts and markets abound!
All food is typically provided during your stay. Please refer to your unique itinerary on our website to review which meals are provided each day. We may hire local people to cook for the team during our visit, or we may eat at restaurants or hotels. Lunch in clinic may include sandwiches made by the team or a feast prepared in your honor by community leaders. We recommend bringing snacks to eat during the day or evening or to supplement your lunch. High protein/high fat/high energy snacks are best. IMR also provides all of the drinking water for the team. Hydration and nutrition are extremely important for the health of the team. You are the best judge of your own health so please pack appropriate snacks and stay well hydrated on the trip.
You're journeying halfway across the globe, have you considered extending your stay to visit some of Honduras' top spots? Join International Medical Relief on an exclusive trip extension provided by our partner, Worldwide Navigators!
Itinerary is subject to change without notice.
Day 1
You and your team will arrive in Tegucigalpa, Honduras.
Days 2-3
These are clinic days and they will be busy. The bus rides will be amazing and the people of these indigenous communities will welcome you with open arms and a display of their traditional crafts. There will be many families of multi-generations and more children than you can count. You'll get to meet everyone the community before the day is over! There will be many acute cases presenting to you. Hypertension and diabetes are not the major concerns in these communities but malnutrition is a deadly and very real concern for the children and the elderly.
Day 4
You will transfer to Santa Maria del Real today by bus in the morning and upon arrival will have the chance to stretch your legs with a nice hike to explore the town's jewel – an amazing cave that is wet, young and growing.
Day 5-7
The last 3 days of clinic will be held in small, remote towns around the very small town, Santa Maria del Real. Many volunteers from the town's government will join us in clinic to provide support with registration and more.
Day 8
Transfer back to Tegucigalpa for flights home.
Crisis Management & Emergency Response
We take security very seriously at IMR. It is our job to ensure that security precautions are in place, but please keep in mind that we cannot guarantee your safety on the trip.
We continuously review all current activities occurring on the ground, and we work with the State Department and the U.S. Embassy to know the ground situation to the best of our ability.
A security training conference call is available to our volunteers where we detail our security procedures that are in place for the trip.
We take many security precautions such as radios, a buddy system, emergency evacuation plan and security planning.
We protect the privacy of our volunteers in the field and provide them with customized contact information for their use.
During our mandatory briefing, team members review our safety protocols, evacuation procedures, protocols for illness, natural disaster and terrorism.
We provide training to our teams to be cognizant of their own safety and to be aware of their surroundings.
Several policies require teams to adhere to safety issues.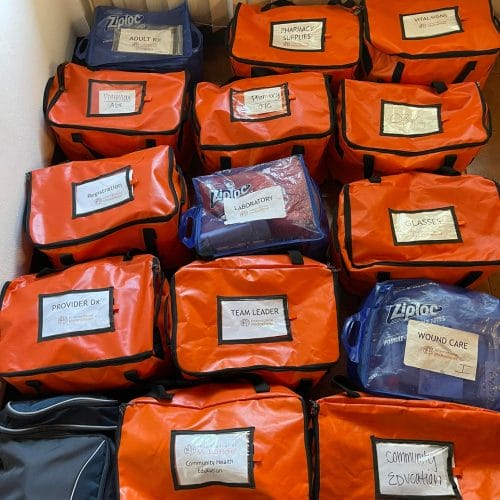 A service that we are very proud of at IMR is the preparation that each team and team member receives prior to the trip. All team members will receive a detailed briefing packet about the country you are serving.
In addition to receiving background information about the country and the public health issues affecting local communities, you will also receive detailed information on fundraising, community health education topics,
clinic protocols, and a comprehensive departure packet. All of these materials are critical to the preparation for your trip. Finally, a guide to the infectious diseases of the country is distributed to medical providers prior to departure.
Your generous donation helps to save and change lives everyday.
Your charitable investment will go toward ongoing global relief to care for the underserved and vulnerable people of this community. As a member of this medical mission team, you will elevate the long-term impact of sustainable, capacity-building efforts that improve the health, wellness, and quality of life of those most in need. A small portion of your donation includes:
Clinic supplies and medications for patients
Clinic participation
Transportation, accommodations, and meals as outlined in the itinerary
To save $200, a 50% donation payment must be received 14 weeks before the mission's scheduled start date. Full donation payments must be received 4 weeks before the mission's scheduled start date.
Early Bird Savings Opportunity
To be eligible, upload all your required documents and forms, and make a minimum of 50% of your donation payment by 14 weeks prior to your mission's scheduled start date.
Volunteer with Airfare
You may choose to book a flight with us for an additional fee. Details on the available flight routing and US departure city will be announced on the Early Bird Date. Airport transportation to and from the team's accommodations are also included with this option. Depending on your departure city, you may still need to purchase another flight in addition to this one. After this flight has been booked, you may contact our travel agent, Worldwide Navigators, for assistance booking any necessary additional flights.
Benefits of Flying at a Subsidized Rate
Volunteer without Airfare
Many team members choose to book their flight(s) to and from the mission location independent of IMR. This is a great option if would like to extend your stay in the area to tour and explore, or if the routing from you home airport is more feasible for you. If you choose to fly independently, please note that your transportation in between the airport and the team's accommodations will not be provided. This will need to be arranged separately. Our partner for travel, Worldwide Navigators, would be happy to assist you in coordinating flights and/or transportation. You can contact them at travel@worldwidenavigators.com.
Benefits of Flying Independently
IMR provides a fundraising packet to all registered trip applicants that is full of ideas on how you can raise support for your trip or for supplies to be utilized on this specific mission. When soliciting donations for any of our trips, success is completed through telling your personal story. Why do you want to go? Who will you help? Why their donation can help you achieve the ultimate goal. Tell your story to anyone and everyone. Refer your potential or active donors to our website or Facebook page and to your personal fundraising page. You may share your personal fundraising URL on Facebook and other social media sites.
Join Us in Making a Difference.
Bring much-needed acute medical and dental care to a beautiful, culture-rich destination. You can join an IMR medical mission team today!