Medical Mission Trips to Cuba
Thank you for your interest in IMR's medical mission trips to Cuba! This is a very unique opportunity to observe Cuba's healthcare system and help distribute much needed medical supplies.
Cuba's strictly public healthcare system is a source of pride for its residents. On this trip, you will have the rare opportunity to learn more about how the system operates. In addition, your volunteer team will bring much needed medical supplies that you will distribute to local facilities. While touring these facilities, you will also be able to meet with patients one-on-one and learn about their families and their way of life.
International Medical Relief was privileged enough to travel to Cuba in 2018 to experience the culture and learn more about their health system. The IMR team was able to collaborate and engage in discussion with local health officials, participate in tours of the health facilities, and have the opportunity to meet current patients. IMR continues to collaborate with Cuba in order to gain the opportunity for this unique medical exchange and to learn about the intricacies of Cuban medicine. IMR has participated in three trips to Cuba so far, and each time we are able to provide Cuba with needed clinical supplies. For these three trips, the total value of products and supplies donated are about 875,500USD. IMR will continue to partner with Cuba and keep engaging with the culture and come home with a greater understanding of the Cuban health care system.
This treasured past will augment your first hand discovery of the inner-workings of the famous health care system that Cubans are so proud of. IMR will be bringing much needed medical supplies and distributing them to hospitals, health care professionals, and patients for those patients most in need. IMR is also providing extensive supplies to Cuba to enable them to care for more patients.
You will have the rare opportunity for a medical exchange with engaging conversations about the health care system with local medical providers and officials and will tour healthcare facilities and meet patients one-on-one to learn about the intricacies of Cuban medicine. After distributing needed supplies you will be able to meet with families and learn about their own personal medical experiences.
This engaging opportunity will leave you more knowledgeable about the Cuban health care system and also give you the opportunity to share your expertise and insights as well as make significant contributions of medical supplies to this country in great need. Spend time in the main city of Havana as well as a beautiful beach village, meet the vibrant people of Cuba, and bring home your unique knowledge of the Cuban healthcare system and the people of Cuba to your workplace, community, and your heart.
Please note that you will not be providing medical care on this trip.
The team will have the special privilege to stay in beautiful, rare colonial style bed and breakfast mansions certified by the government. Here you will enjoy quaint private rooms and private bathrooms, air conditioning, and other amenities, including kind and hospitable hosts to attend to your stay. Beautiful rare antiques and authentic food are unique comforts to be enjoyed in this location on the verge of change.
Become submersed by the beautiful and pristine beaches of Cuba as noted in the remarkable works of Ernest Hemingway's writings. Old Man and the Sea and For Whom the Bell Tolls were penned in this renowned region. After learning exchanges focused on medical care for the people, the local health care system, doctors and their training, and touring clinic sites, have the rare opportunity to step back in time and enjoy the local culture. Vintage cars are the standard, farmhouses will expose the architectural charm, local guides will share about life in Cuba, and traditional music will spark the fire within. You will learn about everything from baseball to cigars on this unique and fascinating trip.
All food is typically provided during your stay. Please refer to your unique itinerary on our website to review which meals are provided each day. We may hire local people to cook for the team during our visit, or we may eat at restaurants or hotels. Lunch in clinic may include sandwiches made by the team or a feast prepared in your honor by community leaders. We recommend bringing snacks to eat during the day or evening or to supplement your lunch. High protein/high fat/high energy snacks are best. IMR also provides all of the drinking water for the team. Hydration and nutrition are extremely important for the health of the team. You are the best judge of your own health so please pack appropriate snacks and stay well hydrated on the trip.
You're journeying halfway across the globe, have you considered extending your stay to visit some of Cuba's top spots? Join International Medical Relief on an exclusive trip extension provided by our partner, Worldwide Navigators! Visit Varadero, a Caribbean and Cuban paradise. Lounge on the white-sand beaches of Playa Varadero. Experience Varahicacos Ecological Reserve — a nature preserve since 1974. Ready for the adventure? Connect with Worldwide Navigators today!
Itinerary is subject to change without notice.
Day 1
You and the team will fly into the Jose Marti International Airport (HAV).
Day 2
Your goals for your second day in Cuba is to meet with a representative of the Ministry of Health. You will also have opportunities to tour military bunkers that were built prior to the Missile Crisis and view displays of newspapers describing the Missile Crisis from around the world.
Day 3
On your third day in Cuba, plan to wear business or resort casual attire as you set out to tour a hospital with a representative from the Ministry of Health. You will have opportunities to meet with medical officials and take part in a question and answer session. Your expected tours for the day will include a site visit of Morro Castle Fortress across the harbor where you will be able to see a military display of aircrafts and missiles that were active during the 1962 Missile Crisis.
Crisis Management & Emergency Response
We take security very seriously at IMR. It is our job to ensure that security precautions are in place, but please keep in mind that we cannot guarantee your safety on the trip.
We continuously review all current activities occurring on the ground, and we work with the State Department and the U.S. Embassy to know the ground situation to the best of our ability.
A security training conference call is available to our volunteers where we detail our security procedures that are in place for the trip.
We take many security precautions such as radios, a buddy system, emergency evacuation plan and security planning.
We protect the privacy of our volunteers in the field and provide them with customized contact information for their use.
During our mandatory briefing, team members review our safety protocols, evacuation procedures, protocols for illness, natural disaster and terrorism.
We provide training to our teams to be cognizant of their own safety and to be aware of their surroundings.
Several policies require teams to adhere to safety issues.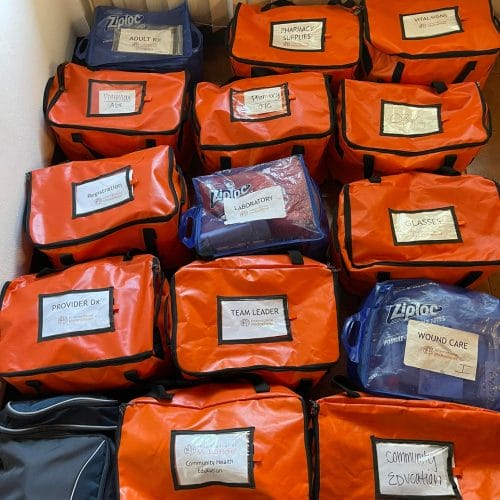 A service that we are very proud of at IMR is the preparation that each team and team member receives prior to the trip. All team members will receive a detailed briefing packet about the country you are serving.
In addition to receiving background information about the country and the public health issues affecting local communities, you will also receive detailed information on fundraising, community health education topics,
clinic protocols, and a comprehensive departure packet. All of these materials are critical to the preparation for your trip. Finally, a guide to the infectious diseases of the country is distributed to medical providers prior to departure.
Your generous donation helps to save and change lives everyday.
Your charitable investment will go toward ongoing global relief to care for the underserved and vulnerable people of this community. As a member of this medical mission team, you will elevate the long-term impact of sustainable, capacity-building efforts that improve the health, wellness, and quality of life of those most in need. A small portion of your donation includes:
Clinic supplies and medications for patients
Clinic participation
Transportation, accommodations, and meals as outlined in the itinerary
To save $200, a 50% donation payment must be received 14 weeks before the mission's scheduled start date. Full donation payments must be received 4 weeks before the mission's scheduled start date.
Early Bird Savings Opportunity
To be eligible, upload all your required documents and forms, and make a minimum of 50% of your donation payment by 14 weeks prior to your mission's scheduled start date.
Volunteer with Airfare
You may choose to book a flight with us for an additional fee. Details on the available flight routing and US departure city will be announced on the Early Bird Date. Airport transportation to and from the team's accommodations are also included with this option. Depending on your departure city, you may still need to purchase another flight in addition to this one. After this flight has been booked, you may contact our travel agent, Worldwide Navigators, for assistance booking any necessary additional flights.
Benefits of Flying at a Subsidized Rate
Volunteer without Airfare
Many team members choose to book their flight(s) to and from the mission location independent of IMR. This is a great option if would like to extend your stay in the area to tour and explore, or if the routing from you home airport is more feasible for you. If you choose to fly independently, please note that your transportation in between the airport and the team's accommodations will not be provided. This will need to be arranged separately. Our partner for travel, Worldwide Navigators, would be happy to assist you in coordinating flights and/or transportation. You can contact them at travel@worldwidenavigators.com.
Benefits of Flying Independently
IMR provides a fundraising packet to all registered trip applicants that is full of ideas on how you can raise support for your trip or for supplies to be utilized on this specific mission. When soliciting donations for any of our trips, success is completed through telling your personal story. Why do you want to go? Who will you help? Why their donation can help you achieve the ultimate goal. Tell your story to anyone and everyone. Refer your potential or active donors to our website or Facebook page and to your personal fundraising page. You may share your personal fundraising URL on Facebook and other social media sites.
Join Us in Making a Difference.
Bring much-needed acute medical and dental care to a beautiful, culture-rich destination. You can join an IMR medical mission team today!