Philippines – Typhoon Haiyan (2013)
Typhoon Haiyan, also known in the Philippines as Super Typhoon Yolanda, was one of the most powerful tropical cyclones ever recorded. When Haiyan made landfall, it devastated proportions of Southeast Asia, and more specifically the Philippines. Typhoon Haiyan was reported to be one of the deadliest Philippine typhoons, killing at least 6,300 people in the Philippines alone. This tropical storm was named Haiyan on November 4, 2013 when it started to intensify. By November 6, 2013 the Joint Typhoon Warning Center assessed the system as a Category 5-equivalent super typhoon. Typhoon Haiyan continued to intensify in the next few days and it was reported that the storm sustained winds at 285 km/h (180 mph) for a maximum of ten-minutes before landfall in the central Philippines.
The typhoon caused devastating and catastrophic destruction in the Visayas, particularly on Samar and Leyte. According to United Nation officials, about 11 million people were affected and many were left homeless and seeking refuge. There was widespread devastation from the storm surge in Tacloban City, especially in San Jose. Many buildings and roads were destroyed, trees knocked over and broken, and cars piled up. Low-lying areas on the eastern side of Tacloban city were the hardest hit. Some areas were completely washed away. Typhoon Haiyan also left areas flooded along the east coast. Although wind speeds were extreme, the major cause of damage and loss of life appears to have been storm surge. The major focus of devastation appears to have been on the east coast of Samar and Leyte, with a particular focus on Tacloban, because of its location between Samar and Leyte, and the large population in low-lying areas.
Yes, it is true that the work we do has a positive impact on those we care for, but nothing compares to the impact they have on us with their love and appreciation. My heart overflowed when an elderly woman bestowed many blessings upon me and the team, and bid me farewell with her kind hugs and kisses. Tears could not be suppressed when my heart overflowed again with joy by the infant in my arms, who spoke no true words, yet filled my entire being with such incredible love and warmth through his beautiful smile, adorable laughs and appreciable coos. And the amazing IMR team! Almost all of us were complete strangers upon arrival and became an instant family. – Tricia, Bahamas Disaster Relief
The World Health Organization noted that short-term focus would be requiring medical attention in the first week from trauma and fractures. However, as weeks passed the concern shifted toward chronic conditions. International response was called to help the Philippine government to meet the acute needs of healthcare services in the affected areas. The aftermath of this typhoon led to a lot of trauma causing several mental health issues to the communities.
International Medical Relief (IMR) was quick to respond to this disaster and help the Philippine communities that were greatly impacted. IMR was able to run medical clinics to help support the heavily stressed health care systems. IMR clinics are composed of both our corps of international medical staff and local providers who partner shoulder-to-shoulder to help deliver sustainable healthcare elevating access to care for our patients. During this medical mission trip, IMR provided much needed aid to the local health care system during the recovery period. This disaster relief trip had a total of 23 volunteers and staff that served over 1,170 patients. IMR teams that included EMTs, nurses, doctors, dentists, and students who reached beyond borders in order to provide critical care to the most vulnerable communities impacted by the aftermath of this typhoon. During our urgent response to this disaster, IMR was able to provide a total aid value of $1,044,726. International Medical Relief continues to send in medical teams to aid in the long term overall health of the philippines community in order to provide sustainable health care.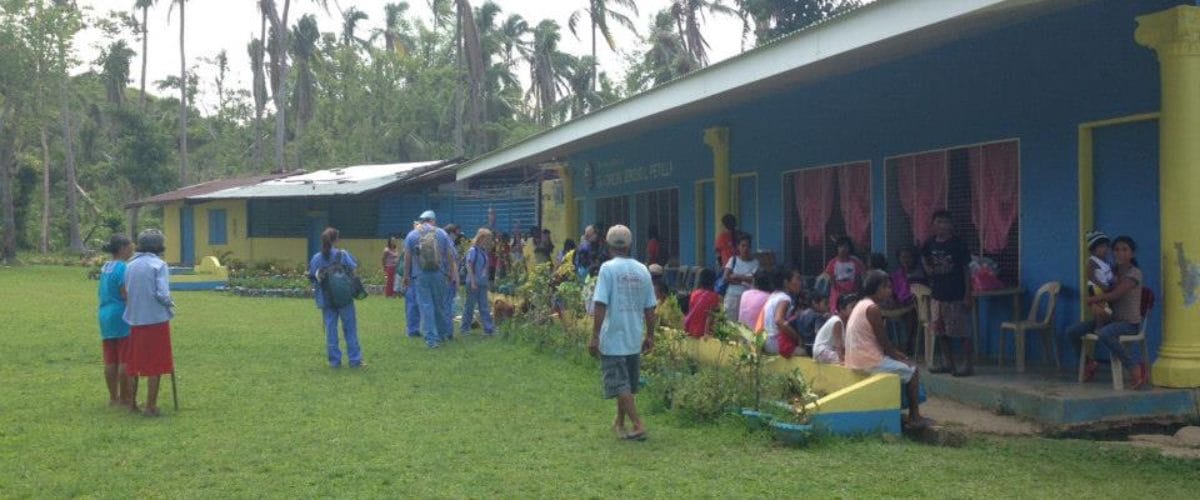 Also, our first responders medical team also provided community health classes and conducted a children's program engaging the youth in therapeutic activities designed in cooperation with children therapists specializing in trauma and loss to further the patient's knowledge and education on health matters related to their personal health needs. During IMR's critical work, we also provided 20 health education classes including hygiene, solar water disinfection, oral hygiene, sanitation, grieving and others. Over 4,645 people participated in these education classes. Educating communities allow for locals to become more empowered by their own health, as well as for the health of other community members.
To say I had a wonderful time in the Bahamas doesn't begin to cover it. Serving the people of the Bahamas was a beautiful, and humbling experience! I learned so much, and grew both as a nurse and person. I am honored to serve such gracious people.
Join Us in Making a Difference.
Bring much-needed acute medical and dental care to a beautiful, culture-rich destination. You can join an IMR medical mission team today!